San Francisco - A tiger that mauled a zookeeper last year escaped from its pen at the San Francisco Zoo on Tuesday, killing one man and injuring two others before police shot it dead, authorities said.
The three men were in their 20s; they were together and were not zoo employees, San Francisco Police spokesman Steve Mannina said. They were attacked just after the 5 pm closing time outside the zoo's Terrace Cafe on the east end of the 125-acre grounds.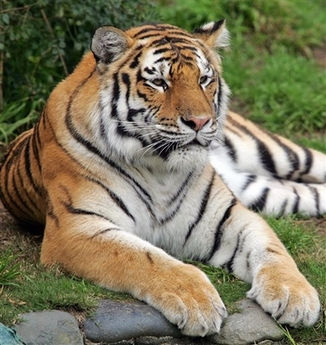 This undated file photo provided by the San Francisco Zoo shows Tatiana, a female Siberian tiger. [Agencies] 
It was unclear how the tiger escaped or how long it was on the loose. The approximately 300-pound female Siberian tiger, named Tatiana, attacked a zookeeper last December during a public feeding, according to the zoo's director of animal care and conservation.
The zoo, which is open 365 days a year, was evacuated immediately after the attack was reported.
The two injured men were in critical but stable condition at San Francisco General Hospital, San Francisco Fire Department spokesman Lt. Ken Smith said. A call to the supervising nurse at San Francisco General was not immediately returned.
"This is a tragic event for San Francisco," Smith said. "We pride ourselves in our zoo, and we pride ourselves in tourists coming and looking at our city."
Authorities did not believe there were any other people attacked, but because it was dark they could not be certain. Investigators remained on the scene and Smith said a thorough sweep of the grounds would be conducted in the morning.
Investigators working to understand what happened have sketched a chilling picture.
The first attack happened right outside the Siberian's enclosure — the victim died on the scene. A group of four responding officers came across his body when they made their way into the dark zoo grounds, said Mannina.