Tao Wenjuan and Cao Lingyan are rural migrant workers on a mission. The 22-year-old women want equality and respect from China's 577 million city dwellers. As president of a women's association at a rural migrant community in Fenghua, Zhejiang Province, Tao proposed to the city council that it was time to challenge the city dwellers' prejudice against the migrant worker.
The term for rural migrant workers should be "new citizens" rather than the currently popular "alien workers" (wai lai wu gong ren yuan in Chinese), Tao says.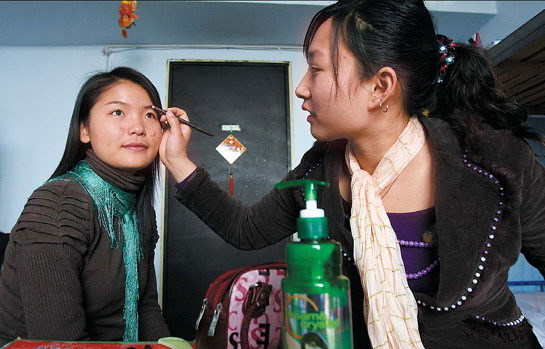 Cao Lingyan (right) and Tao Wenjuan get ready for a community performance. The young women from Anhui Province challenge city dwellers' prejudice against rural migrant workers. [China Daily]
"Alien workers" has an outsider's feel. It constantly reminds migrant workers that they don't belong to the city, she says.
Cao Lingyan, now head of the Youth Art Department at the same community, also feels disrespected when called an "alien worker".
The exceptional courage and social awareness that enabled Tao and Cao to stand up against mainstream society also made them inspirations for a film. Two Butterflies, one of China's first films about rural migrant workers, is director Sheng Ling's screen adaptation of the girls' successful urban experiences.
To Sheng, Tao and Cao represented a new generation of rural migrant workers who are "young and spiritually driven".
Tao and Cao may have been young when they first left their homes in rural Anhui Province four years ago, but they had no grand ideologies. Back then, all they wanted was a steady income and a shot at better lives.
Their new lives began at Libang Village, an urban community in the city of Fenghua that offered inexpensive room and board for rural migrant workers.
Together with 2,800 rural migrants from more than 20 provinces across the country, Tao and Cao settled in their own corner of the city.
The girls seemed to have it made, earning more than 2,000 yuan (US$270) a month on production lines in a cell phone factory.
But soon the emptiness set in. "Your environment has so much influence on your personality," Tao tells Zhejiang Online News.
"I was tired of dealing with products, I wanted to meet some people," Tao says about her stifling job.