BEIJING - China and Japan will continue to cooperate and improve their product quality and food safety systems, said a press communique issued by the two countries after their first high-level economic dialogue.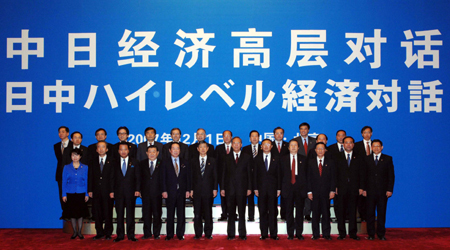 The first China-Japan high-level economic dialogue is held in Beijing, December 1, 2007. [Xinhua]
In the communique, the two countries agreed to solve issues of common concern through technical negotiations through the end of March 2008. These issues include exports of Chinese pumpkins and the meat of artiodactyls (cattle, deer and similar hoofed animals) to Japan, as well as Japanese rice exports to China.
According to discussions between the General Administration of Quality Supervision, Inspection and Quarantine (AQSIQ) and Japanese Agriculture, Forestry and Fisheries officials here Sunday, China has agreed to import the second batch of 150 tons of rice from Japan before next March, while Japan agreed to devise and launch working procedures, including insect inspections of Japanese rice, by the end of next March.
The first batch of Japanese rice, approximately 24 tons, hit the shelves of department stores in Beijing and Shanghai in July and has been sold out.
Japan said it would immediately launch domestic legal procedures to ensure import bans on Chinese pumpkins could be lifted by the end of next March.
It promised to start importing Chinese artiodactyl meat by the end of March 2008, after it finished inspections of the products of 35 Chinese companies that sell such items.
The two sides also agreed to conduct exchanges and consultations on quarantine and inspection techniques before next May amid efforts to resume Japanese imports of frozen raw poultry from China, according to the AQSIQ.
The press communique also said the two countries agreed to further strengthen exchanges and cooperation on quarantine and inspection techniques of exporting agricultural products, so as to normalize their bilateral trade.
The two countries also vowed in the press communique to strengthen their cooperation on intellectual property rights (IPR).
Japan will continue to send delegates on IPR protection to visit China, carry out bilateral cooperation when amending major IPR laws and regulations, and continue personnel training in this field.
The two sides agreed to continue discussions on provision of relevant information on IPR infringement and exchanges and cooperation between localities.
The two countries will also actively participate an east Asian forum on new plant species protection, so as to coordinate and strengthen systems in this regard.
The first China-Japan high-level economic dialogue was held here Saturday. The mechanism was jointly launched by Chinese Premier Wen Jiabao and then Prime Minister of Japan Shinzo Abe during Wen's Japan trip in April.
Related stories: China, Japan to elevate economic ties
                   China, Japan highlight post-Kyoto Protocol framework