ISLAMABAD - The exiled former prime minister of Pakistan Nawaz Sharif arrived in the eastern Pakistani city of Lahore on Sunday, local TV channel DAWN NEWS reported.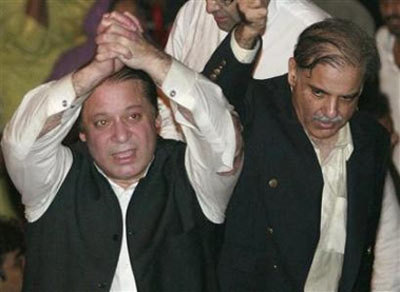 Former Pakistan prime minister Nawaz Sharif (L), accompanied by his brother Shahbaz Sharif, greets supporters after arriving at Lahore's Allama Iqbal international airport November 25, 2007. [Xinhua] 
Boarding a special plane from Medina, a western Saudi Arabian city, Sharif returned home with his wife Kulsoom Nawaz, younger brother Shahbaz Sharif and other family members, said the report.
Around 75 Pakistan Muslim League-Nawaz (PML-N) leaders and thousands of PML-N supporters received Sharif at the airport.
Some 5,000 security personnel are deployed in Lahore as a precautionary security measure and the law and order situation is under control, said the report.
According to a plan unveiled earlier by the party, Sharif will be taken to Data Sahib shrine where he will offer prayers. Then Sharif will leave for his residence in Raiwind, a city near Lahore.
Saudi King Abdullah bin Abdulaziz met Sharif in Riyadh in the presence of Saudi intelligence chief Prince Miqren bin Abdul Aziz late Friday, the Saudi Press Agency reported, without mentioning details of the meeting.
Sources with PML-N Friday disclosed that Sharif would discuss with Abdullah plans for his return to Pakistan in time for general elections.
According to the time schedule unveiled by the Election Commission of Pakistan, November 26 is the last date for political parties to file nomination papers for National Assembly and Provincial Assemblies seats.
Local media reported that the government had no plan to obstruct Sharif's return but banned PML-N leaders from taking part in rally or procession on the arrival of Sharif.