LOS ANGELES - In May, Alvin Clavon received a foreclosure notice on the simple, Spanish-style house in South Los Angeles that he shares with his wife and three boys.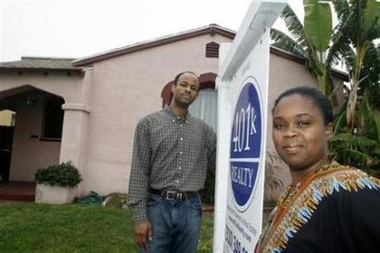 Alvin Clavon and wife Debbie pose in front of their home which is for sale in South Los Angeles, California, November 18, 2007. [Agencies] 
Clavon bought the place in 2003 with a fixed-rate loan. They painted the walls, fixed the yard and made friends with the neighbors, who let the Clavon boys pick their basil.
In 2005, Clavon worked with a mortgage broker to refinance his home with another fixed-rate loan. But on the night before signing, the family was offered an interest-only, adjustable-rate mortgage.
Clavon, a 35-year-old executive assistant at a bank, said he felt stuck. The ball was rolling, he trusted his broker and so the next day, he signed the loan.
"Turned out to be the worst thing I could have done," said Clavon, who like so many others in danger of losing their home to the US housing crisis, is African American.
The Clavons live in a zip code, 90047, with one of the largest black populations in the city, and also one of the highest rates of foreclosure - a common combination.
Researchers agree minorities are more likely than whites to get high-cost mortgages, but analysts can't agree why.
Does the 90047 zip code have a high foreclosure rate because African Americans were forced into high-cost loans? Or is the area's foreclosure rate the result of economics?
Either way, say some minority and housing activists, the fact that minorities are disproportionately hurt by lending practices in the United States is real - and so are its consequences.
Race of risk?
Study after study show that minorities are more likely than whites to get subprime mortgages, which are high-cost loans made to people with poor credit. In its heyday earlier this decade, the subprime market was cheered as an avenue through which historically shut-out borrowers could get loans. That frequently meant minorities.