Airbus said it signed contracts Monday to sell 160 commercial passenger jets to China in a deal worth around US$14.8 billion.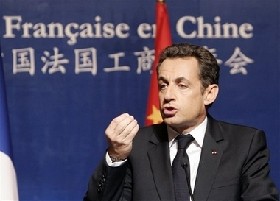 France's President Nicolas Sarkozy delivers a speech to businessmen at the Franco-Chinese Chamber of Commerce in Beijing, November 25, 2007, on the first day of a three-day official visit in China. [Agencies] 
The order includes 110 of the European company's A320 jets and 50 of the slightly larger A330 planes, Airbus officials said in Beijing, where they were accompanying French President Nicolas Sarkozy on his first state visit to China.
Airbus and Chinese partners this summer signed an agreement to produce A320s in China in anticipation of large Chinese orders for the popular single aisle jet that seats 150 or more passengers. Size-wise, the plane is well suited for Chinese domestic routes expected to show strong growth in the years ahead as the economy continues to expand.
Airbus and its American archrival Boeing Co. predict China will become the world's second-biggest aircraft market after the United States, with airlines buying 1,900 to 2,600 planes over the next two decades.
The order stands to push Airbus past Chicago-based Boeing in total orders for commercial aircraft this year.
Boeing said last week it had received 1,047 commercial airplane orders this year, already beating its 2006 record-setting total of 1,044 orders with more than a month to go. Airbus had logged 1,021 commercial jet orders as of the end of October, the most recent data available on the company's website.
The exact price tag for the purchase was not immediately clear. Louis Gallois, chief executive of European Aeronautic Defence & Space Co. NV, the owner of Airbus, said he "had not calculated it."
French officials speaking on condition of anonymity said the deal totaled about 10 billion euros, or US$14.8 billion. Other Airbus officials said the list price of the planes came to about US$17 billion.
The deal is welcome news to Airbus, which has struggled with a decline in the US dollar and delays with its A400M military transport aircraft and the A380 superjumbo that has wiped billions of euros off EADS' profit.
Earlier this month, Gallois said the company needed to find an extra 1 billion euros (US$1.46 billion) in cost savings after the planemaker and its parent company announced third-quarter losses.
The dollar's drop to record lows against the euro also makes it harder for Airbus to compete against Boeing Co., because while it sells its planes in dollars, many of its costs are in euros.
Airbus' agreement to assemble planes in China was seen as part of a long-term strategy to win a greater share of the Chinese market. Its final assembly line in the Chinese city of Tianjian is due to deliver its first aircraft in early 2009. The plant is expected to be able to produce four A320s a month by 2011 and a total of about 300 A320 planes by 2016.