XI'AN -- French President Nicolas Sarkozy arrived in Xi'an, capital of Northwest China's Shaanxi Province, on Sunday morning, kicking off his first state visit to China since he took office in May this year.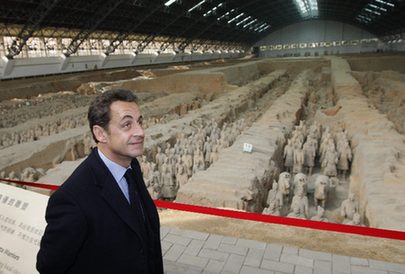 France's President Nicolas Sarkozy looks at soldiers of the Terracotta Army in Xi'an, Northwest China's Shaanxi Province, on the first day of a three-day visit to China, November 25, 2007. [Agencies]
During his three-day stay in China, Chinese President Hu Jintao will hold talks with him. China's top legislator Wu Bangguo and Premier Wen Jiabao will also meet with him. Sarkozy is scheduled to deliver a speech at Beijing's prestigious Tsinghua University.
Sarkozy said in an interview with Xinhua in Paris on Friday that he would like to work together with Chinese President Hu Jintao on many topics of mutual concern like the environment, economic and trade relations and how France and China can make bigger contributions to the world's security.
He also called for the strengthening of China-European Union ties.
The French president will conclude his China visit on Tuesday after a trip to China's economic powerhouse Shanghai.