President Hu Jintao reiterated the central government's "all-out support" for the Hong Kong Special Administrative Region (HKSAR) on Friday when he met its Chief Executive Donald Tsang on his annual duty visit.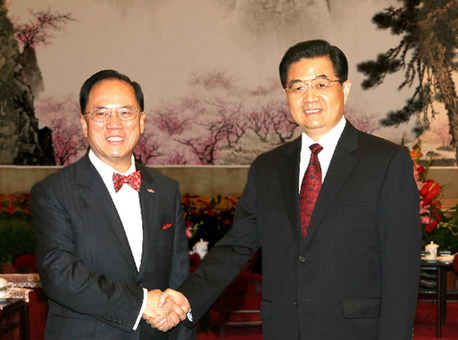 Chinese President Hu Jintao (R) meets with Chief Executive Donald Tsang of Hong Kong Special Administrative Region (HKSAR) in Beijing, November 23, 2007. [Xinhua]
Hu spoke highly of the HKSAR government's achievements and asked that it give priority to economic development and the improvement of people's lives.
The SAR should make full use of the opportunities brought by the mainland's economic development and globalization to consolidate its position as an international finance, trade and shipping center, Hu said.
The central government will continue to unswervingly uphold the principles of "one country, two systems" and the Basic Law of Hong Kong , and "give all-out support" to the chief executive and the HKSAR government in governance according to law, Hu said.
Premier Wen Jiabao also met Tsang on Friday.
Wen said the initiative to allow mainlanders to directly invest in Hong Kong's stock market - or the "through-train" stock investment scheme - will move forward "cautiously and pragmatically" to ensure the financial stability of Hong Kong and the mainland.
Tsang said the Hong Kong government will fully cooperate with the mainland once the initiative is given the green light.
The plan was announced in August and later shelved out of consideration for the financial stability of both the mainland and the SAR.
Tsang told a news briefing on Friday afternoon that he had visited several ministries this time and "got the strong impression that they have given full support to Hong Kong in strengthening its status as an international financial center".
Hong Kong is the prime location for a pilot project running renminbi businesses outside the mainland, Tsang said.
Tsang also suggested the National Development and Reform Commission include Hong Kong when it starts drafting the next Five-Year Plan (2011-15) during a meeting with the commission's deputy chief Chen Deming.
The commission supported Hong Kong's closer integration with neighboring Shenzhen and the development of major cross-border infrastructures, such as the Hong Kong-Macao-Zhuhai Bridge, Tsang said.
Tsang also told reporters he has invited Xi Jinping to Hong Kong. Xi is the newly elected member of the top leadership of the Communist Party of China who has recently been assigned to oversee the affairs of Hong Kong and Macao.
State leaders on Friday also promised to fully support the work of the Macao SAR government and its chief executive Edmund Ho.
"We believe that Ho and the Macao SAR government will unite the people from all walks of Macao society, find proper solutions to the problems Macao will face in the future, and maintain the favorable circumstances that have existed since the region returned to the motherland (in 1999)," Wen said during the meeting with Ho.