New York - Drivers in the Northeast of the United States faced a treacherous commute Monday as a storm blamed for at least 11 deaths blanketed the region with snow, sleet and freezing rain after glazing roads in the Midwest.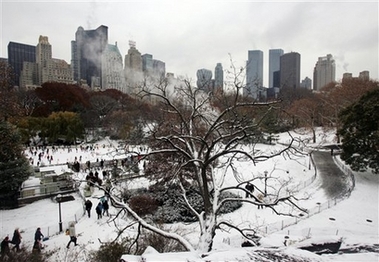 The first snowfall of the year is seen from Central Park in New York City, December 2, 2007. [Agencies]
The US National Weather Service said a foot of snow was possible in the mountains of northern New England, with the potential for 20 inches in northern Maine. Upstate New York's central Adirondacks and Lake George region could see 12 inches of snow. Lake-effect snow and high winds were forecast for parts of Michigan and western New York.
"It's kind of a mess - probably the best way to term it in one word," meteorologist Bob Kilpatrick said in Albany.
Ice storm warnings were issued for Massachusetts and Connecticut, while winter storm warnings were in effect in Massachusetts, Vermont, New Hampshire, Maine and northern and western New York state. On the other side of the weather system, winter storm warnings were issued for parts of Michigan, which could get 3 to 5 inches of snow by Monday afternoon.
Three to 6 inches had fallen by Sunday afternoon in central New York state, while parts of northern New Jersey measured about 3 inches.
The New Jersey Turnpike Authority salted its roads Sunday but didn't bother to plow because the snow turned over to rain.
"Compared to what's happening in the Midwest, we've kind of got it easy right now," said Joe Orlando, a spokesman for the authority.
The storm dumped snow and ice from the Plains across the Upper Midwest on Saturday.
Minnesota's Grand Marais, on Lake Superior's North Shore, got 20 inches of snow, and the port city of Duluth marked a Dec. 1 record of 10.3 inches, according to the weather service.
Roads were already cleared Sunday in Grand Marais, said Jane Shinners, owner of the downtown Harbor Inn.
More than 200 passengers stranded at Chicago's O'Hare International Airport because of canceled flights Saturday were finally able to reach their destinations Sunday, said Gregg Cunningham, a spokesman for Chicago's Department of Aviation.
But lingering rain and poor visibility caused about 50 flight cancelations Sunday afternoon, forcing about 75 people to stay at the airport overnight, Cunningham said.
Hundreds of flights into the New York City area's three main airports - Kennedy, Newark Liberty and LaGuardia - were delayed as long as two hours Sunday because of wind and ice, but no delays were reported early Monday.
Before the storm hit the Plains and Midwest, it dumped about 3 feet of snow in one mountain area in western Colorado. Silverton Mountain ski resort workers had hoped to open for the season Sunday but postponed the opening a day because of the storm.
The weather was blamed for four deaths in Michigan, three in Wisconsin, and one each in Illinois, Indiana, North Dakota and Colorado.
While the Midwest dug out and the Northeast braced itself, a separate storm raked the Oregon and Washington coasts with winds gusting higher than 100 mph in some spots. One sheriff reported 45-foot surf and power failures, and officials warned of coastal flooding.
"You might be living literally more on the ocean than you had in mind," said Andy Bryant, a hydrologist at the National Weather Service.