ISLAMABAD - Pakistani President Pervez Musharraf announced on Thursday that he intended to lift the state of emergency on December 16.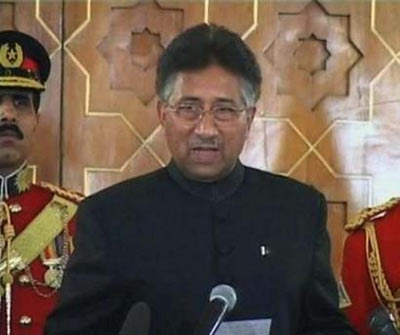 Pakistan's President Pervez Musharraf, dressed in civilian clothes, speaks during his swearing-in ceremony in Islamabad in this frame grab Nov. 29, 2007. He announced on Thursday that he intended to lift the state of emergency on Dec. 16. [Xinhua] 
Addressing the nation through state TV channels and radio stations, Musharraf also said that the Provisional Constitutional Order (PCO) would be removed and the constitution would be restored on December 16.
Musharraf on November 3 proclaimed a state of emergency in the country and promulgated the PCO, suspending the constitution. Under the PCO, the then-Chief Justice Iftikhar Muhammad Chaudhry and some other judges were sacked and some restrictions were put on local media.
Musharraf clarified that the emergency was imposed because the country was facing terrorist attacks which was badly affecting the economy.
He said the democratic process was moving ahead according to program and major success had been achieved against militants and terrorists.
"As a result of November 3 decision of imposition of emergency the country's overall situation has improved," Musharraf said.
Musharraf said he was determined to lift emergency and withdraw PCO and fully restore the constitution of the country as a result of improvement in the situation.  
The general elections would be held on January 8 under the constitution in a fair, free and transparent manner, Musharraf said, "No one would be allowed to disturb the election process."
He urged political parties to participate wholeheartedly in the forthcoming general elections.