Caracas - Venezuela's President Hugo Chavez said on Friday he will cut oil sales to the United States if the American government interferes in Sunday's referendum on the proposed constitutional reform.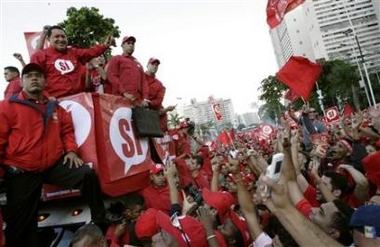 Venezuelan President Hugo Chavez (L) waves to supporters as he arrives at a rally in Caracas November 30, 2007. [Agencies] 
Chavez told supports at a rally that the state oil company will halt sales to the United States on Monday if Washington interferes with the vote.
"There will not be a single drop of oil for the United States," Chavez told hundreds of thousands of cheering supporters in downtown Caracas. "And if they want to come and take our oil they will face 100 years of war in Venezuela."
"Whoever votes 'Yes' is voting for Chavez, and whoever votes 'No' is voting for George W. Bush, president of the United States," he said.
The Venezuelan leader also said he had ordered the military to protect oil fields and refineries in case of political violence.
Chavez has for long accused Washington of backing a failed coup against his rule in 2002. Venezuela provides about 12 percent of US oil imports.
Chavez also warned on Friday to cut ties with Spain and nationalize Spanish businesses in Venezuela if King Juan Carlos does not apologize for telling him to "shut up" at a recent summit in Chile.
Constitutional Reform
The constitutional changes would allow Chavez to run for reelection indefinitely and give him direct control over foreign currency reserves.
They would also reduce Venezuela's official work day to six hours, expand social security benefits for informal workers like street vendors.