The Beijing Organizing Committee for the Games of the XXIX Olympiad (BOCOG) has appointed a new head of ticketing after chaotic scenes during last month's ticket sales.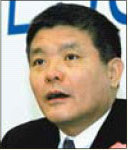 BOCOG's new head of ticketing Zhu Yan.
BOCOG was forced to suspend the second round of ticket sales following a booking system breakdown because of high demand.
Zhu Yan was introduced, at a press conference on Friday, to replace Rong Jun as director of the Olympic ticketing center.
Zhu, who previously worked for the Beijing municipal government, said each person could book a maximum of eight tickets for the Games during the second stage.
"In order to let more people enjoy the Olympic Games, we will limit the number of tickets that each person can buy from 50 to eight," Zhu said.
"Each person can submit just one booking form for no more than two competition sessions, and for each session people can apply for no more than four tickets."
The second phase of ticket sales will begin on December 10 and conclude on December 30, using a lottery system similar to that used in the first phase.
People on the Chinese mainland can submit applications through the official ticketing website (www.ticket.beijing2008.cn) or through some 1,000 Bank of China outlets designated by BOCOG. Zhu didn't give the exact number of tickets available for the second phase but said the number would not be less than 1.8 million.