Chinese meteorologists said the country's average temperature in the first 11 months was 11.3 C, 1.2 C higher than the same period in an average year.
It was also the highest temperature since 1951.
"It is the 11th year for the country to experience an abnormally high temperature against the global backdrop of climate change," said China Meteorological Administration (CMA) spokeswoman Jiao Meiyan.
In November, the national average temperature was 3.5 C, 1 C higher than previous years.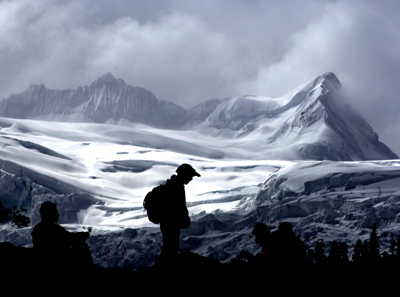 Photo taken on September 20, 2007 shows an unidentified man walking past a group of glaciers in Bomi County, Southwest China's Tibet Autonomous Region. [Xinhua]
Last month saw continuous droughts in southern parts of the country, heavy fog in the Yellow and Huaihe river basins and Sichuan Province, and a snow storm in Deqin, Yunnan Province.
CMA forecast that cold fronts will bring rain, storms and lower temperatures over the next 10 days.
Because of climate change, recent years have witnessed increasing and intensified extreme weather events, according to CMA.
To raise public awareness of climate change, the administration will hold a public vote on the 10 major climate events this year on its website.
The events include high temperature records, very high winds in the Xinjiang Uygur Autonomous Region that overturned a train in February, frequent lightning strikes in the summer, and the longest drought in autumn in southern China since 1951.
Global candidates chosen by CMA include snow storms in Canada and the United States from January to April, heat waves in South Asia and Europe, a drought in Australia, and cyclone Sidr that killed thousands of people in Bangladesh.