Tehran - Iran's foreign minister on Tuesday welcomed the US decision to "correct" its claim that Tehran has an active nuclear weapons program, state-run radio reported.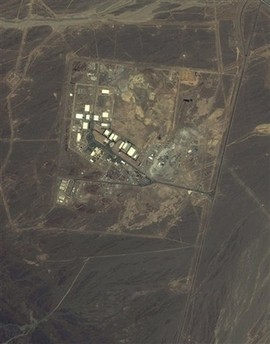 This handout IKONOS satellite image, taken June 26, 2007, shows the Natanz Nuclear facility. [Agencies]
Foreign Minister Manouchehr Mottaki was referring to a US intelligence assessment released Monday that reversed earlier claims that Iran had restarted its weapons program in 2005 after suspending it in 2003.
"It's natural that we welcome ... countries that correct their views realistically which in the past had questions and ambiguities about (Iran's nuclear activities)," Mottaki said.
Conservative lawmaker Elham Aminzadeh said that "it proved that Iran is not a danger to the world, as some members of the Bush administration claim."
The new US intelligence report Monday concluded that Iran's nuclear weapons development program has been halted since the fall of 2003 because of international pressure.
The finding is part of a National Intelligence Estimate on Iran that also cautions that Tehran continues to enrich uranium and still could develop a bomb between 2010 and 2015 if it decided to do so.
The conclusion that Iran's weapons program was still frozen, through at least mid-2007, represents a sharp turnaround from the previous intelligence assessment in 2005.
Then, US intelligence agencies believed Tehran was determined to develop a nuclear weapons capability and was continuing its weapons development program. The new report concludes that Iran's decisions are rational and pragmatic, and that Tehran is more susceptible to diplomatic and financial pressure than previously thought.