ADDIS ABABA - US Secretary of State Condoleezza Rice is working the phones to defend the Bush administration's strategy on Iran and to explain a new US intelligence assessment that Tehran halted its nuclear weapons program in 2003, a startling turnabout that contradicted past US conclusions.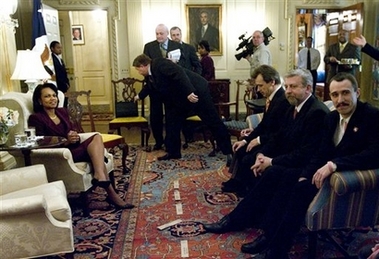 US Secretary of State Condoleezza Rice (L) meets a delegation from Defenders of Freedom of Republic of Belarus, December 3, 2007, at the State Department in Washington. [Agencies]
Rice said Tuesday it would be a "big mistake" to ease any diplomatic pressure on Iran despite the new US findings.
"It doesn't mean you should take the pressure off," she said en route to Ethiopia to see African leaders. "It puts a premium on diplomatic efforts.
"I continue to see Iran as a dangerous power in international politics," Rice told reporters traveling with her. "At this moment, it doesn't appear to have an active weaponization program. That frankly is good news. But if it causes people to say, 'Oh, well, then we don't need to worry about what the Iranians are doing,' I think we will have made a big mistake."
Rice has been telephoning foreign ministers of Germany, Britain and France, as well as China and Russia since Monday's report by US intelligence agencies about Iran's nuclear program.
Rice spoke with Russian Foreign Minister Sergey Lavrov on Tuesday and expects to see him later this week at a NATO meeting in Brussels, where she will have to defend the continuing US effort to force another round of international sanctions on Iran.
"What I am going to say to my colleagues is, 'Look, we have got the right strategy," Rice said.
Her efforts are in advance of US President Bush's planned trip to the Mideast early next month, where Iran's nuclear program is likely to be a topic of discussion.
Rice said it may take some time for US allies to understand the administration's new conclusions on Iran, but she said there should be great concern still about the country's continuing preprocessing and enrichment of uranium, which Tehran insists is only for civilian energy production.