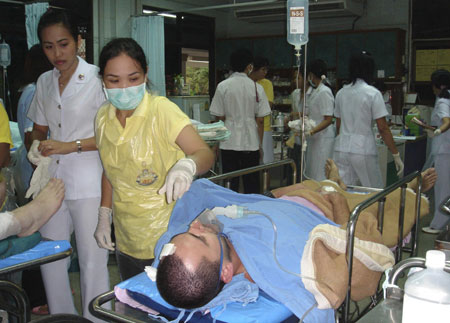 A victim of a crashed Thai airliner receives treatment at a hospital in Phuket September 16, 2007. [Reuters] 
Fast Descent
Survivors described their escape from the airplane's windows as fires and smoke consumed the plane.
"I saw passengers engulfed in fire as I stepped over them on way out of the plane," Parinwit Chusaeng, a survivor who suffered minor burns, told the Nation television channel. "I was afraid that the airplane was going to explode so I ran away."
Distraught relatives gathered at the airport, on the northwest coast of Thailand's largest island, desperate for news of loved ones.
Nong Khaonual, a Thai who survived the crash with his wife, said he believed the plane had descended too quickly.
"The airplane was landing in heavy rain. It landed too fast. I have never seen anything like this. It descended very fast," he told Nation Television in hospital.
"Just before we touched the runway we felt the plane try to lift up, and it skidded off the runway," he said.
"My wife was half conscious and I dragged her out of the emergency exit. There was a man behind us and he was on fire."
An Irish survivor, identified as Sean, told of being badly burned on his arms, legs and back as he escaped the flames. Speaking to TITV from a local hospital, he said he knew something was wrong even before the flight landed.
"You could tell when it was landing it was in trouble," he said. "It was making a noise, this bang."
Chaisak Angsuwan, director general of the Air Transport Authority of Thailand, said weather played a part in the crash.
"The visibility was poor as the pilot attempted to land. He decided to make a go-around but the plane lost balance and crashed," he said. "It was torn into two parts."
One-Two-Go is owned by Orient Thai Airways.
The crash is the country's deadliest aviation accident since December 11, 1998, when 101 people were killed after a Thai Airways crashed while trying to land in heavy rain at Surat Thani, 330 miles south of Bangkok. Forty-five people survived.