WASHINGTON - Rejecting calls to leave Iraq, US President Bush on Thursday approved gradual US troop reductions from their highest level of the war and said more forces can come home as progress is made. At the same time, he said Iraq needs "an enduring relationship with America."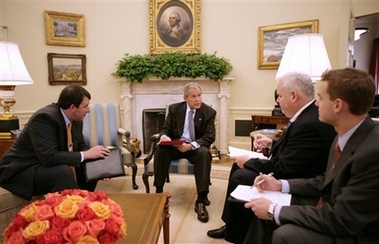 This photo provided by the White House shows President Bush, center, going over a draft of tonight's address to the nation with members of the White House speech writing staff, Thursday, Sept. 13, 2007, in the Oval Office of the White House in Washington. From left are: Marc Theissen, the president, Bill McGurn and Christopher Michel. [AP] 
In remarks prepared for a prime-time address from the Oval Office, Bush presented his strategy for reducing US forces. "The principle guiding my decisions on troop levels in Iraq is: return on success. The more successful we are, the more American troops can return home."
With no dramatic change in course, Bush's decision sets the stage for a fiery political debate in Congress and on the 2008 presidential campaign trail.
Bush approved the recommendations of Gen. David Petraeus, the top US commander in Iraq, to withdraw at least 21,500 combat forces and an undetermined number of support troops by July.
The White House said 5,700 troops would be home by Christmas, but refused to pinpoint how many would return by summer.
Bush said the US engagement will stretch beyond his presidency, requiring military, financial and political support from Washington. He said Iraqi leaders "have asked for an enduring relationship with America.
"And we are ready to begin building that relationship in a way that protects our interests in the region and requires many fewer American troops," Bush said.
Bush said his strategy - leaving about 130,000 US soldiers in Iraq to continue fighting - bridges the desires of people who want to bring troops home and those who believe that success in Iraq is essential to US security.
"The way forward I have described tonight makes it possible, for the first time in years, for people who have been on opposite sides of this difficult debate to come together," Bush said.
That appeared unlikely, however, based on the reaction of Democratic leaders who want deadlines for withdrawals.
"The American people long ago lost faith in the president's leadership of the war in Iraq because his rhetoric has never matched the reality on the ground," said House Speaker Nancy Pelosi, D-Calif. "The choice is between a Democratic plan for responsible redeployment and the president's plan for an endless war in Iraq."