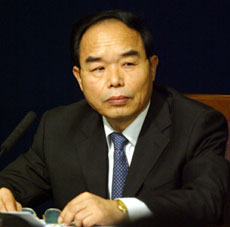 Qu Wanxiang, deputy head of the newly-established National Bureau of Corruption Prevention, speaks at a press conference in Beijing September 13, 2007. [newsphoto]
A national system will be set up "in due time" which will require civil servants to declare personal assets as a deterrent to corruption, Qu Wanxiang, vice-minister of supervision, said on Thursday.
"We will start it after a thorough review," Qu told a press conference before the National Bureau of Corruption Prevention was unveiled. Qu is also the deputy head of the bureau.
Citing international experience, Qu said that the difficulty lies in verifying the authenticity of what officials declare.
He said that the country's financial system is not sophisticated enough and bank accounts are not always opened under real names.
"All these things should be considered," he said.
Tsinghua University professor Ren Jianming said an asset-declaration system should be a crucial part of the country's corruption prevention strategy, and should be implemented in a "gradual and careful" manner.
"Panic and strong opposition from local officials might stifle the move if it is enforced in a rush," Ren said.
"We should begin with pilot projects in a county or a city before gradually expanding it."
The State Council issued a regulation last year requiring officials to declare activities involving major financial transactions such as buying a house, marriage or plans to go abroad, but did not order them to submit reports on personal assets.