Tokyo - The contest to succeed Shinzo Abe as Japan's next prime minister was thrown wide open Friday as dovish ruling party veteran Yasuo Fukuda announced he would run in what has turned into a two-way race.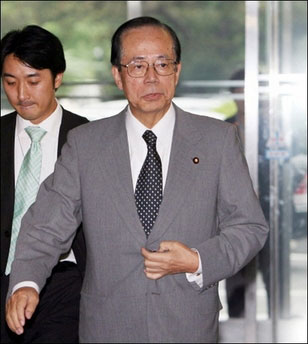 The battle to be Japan's next prime minister intensified Friday with dovish party veteran Yasuo Fukuda, seen here, emerging as a strong contender to take on outspoken former foreign minister Taro Aso. [Agencies] 
Almost as soon as he declared his candidacy, he won the crucial backing of the finance minister who withdrew his own bid.
Fukuda, a former chief cabinet secretary, has emerged as the new favourite but will face a fierce battle with former foreign minister Taro Aso for the helm of the world's second largest economy.
The jostling came as Abe, who stunned the country Wednesday by announcing his resignation, spent the night in hospital with exhaustion.
"We've had lots of requests from many people and I decided that I have to run," Fukuda, who is seen as a safe pair of hands, told members of his ruling party faction.
"Now really is a time of emergency. I beg you from bottom of my heart for your warm support," he added.
Aso, for his part, also told supporters Friday that he intends to run, the Kyodo news agency reported.
"I would like to run," he was quoted as saying.
Whoever is Japan's next premier faces the task of steering Asia's largest economy through a feared global downturn as well as continuing reforms in the face of a resurgent opposition set on blocking legislation.
Special coverage:

Japanese PM Abe Resigns

Related readings:

Abe in hospital as LDP seeks new PM
Abe calls it quits amid political row
Ups and downs during Abe's year in power
Possible candidates to succeed Abe
Abe announced he was stepping down after less than one year in charge, and was hospitalised a day later with fatigue and an intestinal disorder. He was expected to remain in hospital for several days.
Local media said that Fukuda has emerged as favourite to head the Liberal Democratic Party (LDP) with wide support in the conservative movement after a night of behind-the-scenes political maneuvering.
The party will vote on September 23. Its new leader automatically becomes the next prime minister as the LDP controls the powerful lower house.
Finance Minister Fukushiro Nukaga, who had been the first to declare his candidacy for the top job, said Friday that he was dropping out of the race in favour of Fukuda.
"After 40 minutes of talks with Mr Fukuda over various policies we agreed that we will cooperate to overcome the troubles we face. I decided to support Mr Fukuda," Nukaga told reporters.
Media reports said Fukuda is backed by a majority of LDP members while Aso is lobbying local voters.
Fukuda, the 71-year-old son of late ex-prime minister Takeo Fukuda, served under former premier Junichiro Koizumi and has emphasised the importance of Japan's diplomacy with its Asian neighbours.
He was widely seen as a major contender in the leadership race in 2006 but opted out at the last minute.
Aso, 66, currently the LDP secretary general, the party's number two post, is seen by some members as a face of the Abe administration, and has also been criticised by some for failing to give him sufficient support.
Sadakazu Tanigaki, a former finance minister, is another possible contender for a job described by some observers as a poisoned chalice.
The party is suffering one of the worst crises in its five-decade history after it lost control of the upper house of parliament for the first time in July.
It came amid a series of gaffes and scandals that led to resignations both before and after the election, badly undermining Abe's administration.
Meanwhile the newly invigorated opposition is doing its best to block key legislation -- including support for US-led operations in Afghanistan, which Abe had effectively staked his job on.
The opposition Friday renewed its call for a snap general election.
"Whoever becomes the next prime minister will not represent the will of the public. I urge the ruling party to ask the public where its real will lies by dissolving the parliament and holding a general election," said Yukio Hatoyama, a senior member of the Democratic Party.