MOSCOW - Russia's parliament overwhelmingly confirmed Viktor Zubkov as prime minister on Friday, two days after President Vladimir Putin surprised observers by nominating the virtually-unknown official.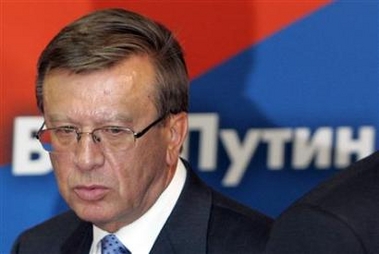 Prime Minister nominee Viktor Zubkov speaks during a media briefing in the building of Russia's Lower House of Parliament, the State Duma, in Moscow September 13, 2007. [Reuters]
Lawmakers in the 450-seat State Duma voted by 381 to 47 to confirm Zubkov, an old Putin acquaintance who the president plucked from obscurity as head of a money laundering watchdog to replace sacked prime minister Mikhail Fradkov.
The nomination of Zubkov, 65, deepened uncertainty about who Putin will endorse to succeed him when he steps down as president next year.
Most observers had expected the prime minister's job to go to a heavyweight figure as a stepping stone to the presidency.
Answering questions from lawmakers before the vote, Zubkov said he would stick to the priorities set out by Putin in the past few years.
"I believe our priorities should be the strategic targets and programs of concrete actions set out in the president's state of the nation addresses in the past few years," he said.
Zubkov said keeping inflation down and preventing sharp rouble fluctuation would be a key priority. This has been a key success of Fradkov's government.
He said Russia should squeeze more income out of its mineral wealth. "Russian oil and gas, forest, fish and other natural riches should bring more revenue," he said.
Answering a lawmaker's question, he said corruption pervaded Russian society and called for a special anti-corruption task-force to be set up.
Sounding a populist note as he addressed lawmakers who face an election in two months, he said he would help the defense industry recover from years of neglect, cut taxes and subsidize agriculture.
Under the constitution, Zubkov has one week to submit his proposals for a new government to Putin.
With Zubkov installed as prime minister, attention will now turn to the line-up of his new Cabinet. He signaled on Friday unpopular Health and Social Affairs Minister Mikhail Zurabov could be a casualty of a reshuffle.
Analysts predict that reformist Economy Minister German Gref could also be dropped. Markets were focusing most attention on the fate of Finance Minister Alexei Kudrin, who is credited with bringing Russia's finances back to robust health.