Wuhan - China's Steel Roses are riding high after their last-gasp heroics against Denmark, and are confident they have what it takes to beat high-powered Brazil on Saturday.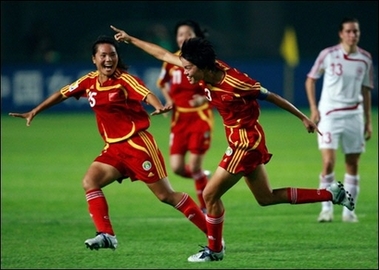 China's Li Jie (C) celebrates with teammate Zhou Gaoping after scoring their first goal against Denmark during their Group D Women's World Cup 2007 football match, in Wuhan, central China's Hubei province, 12 September 2007. [AP] Click for special coverage
China go into their World Cup Group D match in Central Chinese city of Wuhan with home advantage, buoyed by the knowledge that their once sputtering offence can score when it counts after topping Denmark 3-2 with a goal in the 88th minute.
"We have shown we are not easy to beat. We are on home soil and every one of us has the confidence we can beat them," said captain Li Jie.
Expectations for China are high with their Swedish coach Marika Domanski-Lyfors having set them a target of reaching the semi-finals, and conquering Brazil will book them a place in the knockout rounds.
The South Americans hammered New Zealand 5-0 in their opener, and although the lowly ranked Kiwi's were out of their depth, it was still a flashy display of what world number eight ranked Brazil is capable of.
Neither Brazil nor China have won the World Cup, although the Asian side came close in 1999 only for the United States to emerge as champions on penalties in a nail-biting final.
If history is a guide, China and Brazil are closely matched, each having won twice and drawn three times.
"Against Brazil, China has the chance to win as long as we do not make mistakes in defence," former head coach Ma Yuan'an said.
Aside from their World Cup final appearance, China were runner-ups at the Athens Olympics in 2004 but their prowess diminished after that and they are now ranked only 11th.
To prevail on Saturday they will have to find a way to stymie striker Cristiane, and the prolific Marta, who scored two against New Zealand to bring her international goal tally to 42 in 40 games.
Brazilian coach Jorge Barcelos expects China to be tough, but warned that his team is more than just Chistiane and 2006 player of the year Marta.
"We have many other players and they are here to show their talent," Barcelos said.
Brazil, this year's Pan American champions, currently lead China on goal difference but a win against the South Americans would assure the Steel Roses of a place in the second round.
In Saturday's other Group D match, an experienced but frustrated Danish side will meet New Zealend, a team participating in the World Cup for only the second time since their debut in 1991.
The 23rd ranked Kiwi's have their work cut out against a Danish side appearing in their fourth World Cup but which have never progressed beyond the quarter-finals.
Danish head coach Kenneth Heiner-Moller will be hoping to put behind him his team's loss to China after anger got the better of him when he refused to shake hands with his counterpart Domanski-Lyfors.
He has since apologised.