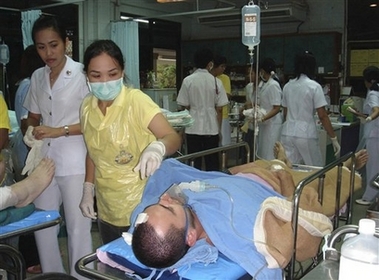 An injured foreign passenger from a plane crash is treated at a hospital in Phuket, southern Thailand Sunday, September 16, 2007. A passenger plane with 123 passengers and 5 crew members crashed while attempting to land at southern Thailand's Phuket airport Sunday afternoon, possibly leaving some people dead and about 20 hurt, an official said. [AP]
BANGKOK, Thailand - A passenger plane filled with foreign tourists crashed Sunday as it tried to land in heavy rain on the island of Phuket, splitting in two as it was engulfed in flames, officials said. At least 66 people were killed.
The budget One-To-Go Airlines was carrying 123 passengers and five crew members on a domestic flight from the Thai capital of Bangkok to Phuket, one of the country's major tourist destinations, according to the Thai television station TITV.
"I saw passengers engulfed in fire as I stepped over them on way out of the plane," Parinwit Chusaeng, a survivor who suffered minor burns, told the Nation television channel. "I was afraid that the airplane was going to explode so I ran away."
Phuket's Deputy Governor Worapot Ratthaseema said at least 66 bodies were laid out in the airport building.
"At least 66 people have been confirmed and 42 have been hospitalized," Worapot said, adding the remaining passengers are missing and presumed to be still inside the wreckage.
Chaisak Angsuwan, director general of the Air Transport Authority of Thailand. said the plane crashed in heavy rain and then split in two. It skidded off the runaway and crashed into a wooded area.
"The visibility was poor as the pilot attempted to land. He decided to make a go-around but the plane lost balance and crashed," he said. "It was torn into two parts."
Around half of the passengers were foreigners, most of them European, an Airports of Thailand official in Bangkok said, and 29 people were known to have survived, including eight Britons, seven Thais and two Australians.
Chaisak Chai-arkad, a senior airport official in Bangkok, told Thai radio the McDonnell Douglas MD-82 plane had broken in two on impact on landing on the Andaman Sea paradise isle, which was hit by the December 2004 Indian Ocean tsunami.
"The first part of the plane is dug into the ground. The tail section is stuck on the runway," Chaisak said.
Anchalee Wanitthepphabutr, chief of Phuket's provincial administrative authority, said on TITV that the plane was in flames. The dead and injured were being taken from the plane to several hospitals in Phuket, Anchalee said.
Maj. Gen. Deecha Butnamphet, police chief in Phuket, said on TITV that "we believe that there are many people who are dead. We are taking the dead and injured out from the scene."
One-Two-Go, a budget airline, is owned by Orient Thai Airways.

Nong Khaonual, a Thai who survived the crash with his wife, said he believed the plane had descended too quickly.
"The airplane was landing in heavy rain. It landed too fast. I have never seen anything like this. It descended very fast," he told Nation Television in hospital.
"Just before we touched the runway we felt the plane try to lift up, and it skidded off the runway," he said.
"My wife was half conscious and I dragged her out of the emergency exit. There was a man behind us and he was on fire."
Another survivor, an Irishman named John, said it was clear there was a problem before the attempt to land.
"You could tell there was a problem. The plane was flying around trying to land. It was making some noises and it was bad rain," John, who was traveling with a friend who also survived, told Thailand's ITV television channel.
"The plane was on fire, but I managed to get through. I might have come out on the wing," he said.