KABUL, Afghanistan - Afghan police killed three Taliban commanders allegedly involved in the abduction of 23 South Koreans two-months ago, the Interior Ministry said.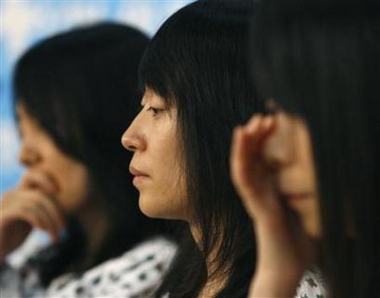 South Koreans kidnapped by the Taliban in Afghanistan, attend a news conference at the Sam Anyang Hospital in Anyang, southwest of Seoul, September 12, 2007.  [Reuters]
The Interior Ministry said the police operation took place Friday in the Qarabagh district of Ghazni province, where the insurgents seized the 23 South Koreans on July 19.
"The commanders who were killed during this operation were directly involved in the kidnapping case of the Korean hostages," the ministry said in a statement Saturday. It did not provide any further details or the identities of the slain Taliban.
There have been several military operations in Ghazni since the release of the last captives on August 30, possibly reflecting a desire by the Afghan government to assert its authority over the rebellious region following the abductions.
Another Taliban commander behind the kidnapping of the South Korean church workers, Mullah Mateen, was killed in an operation early this month.
Two of the Korean hostages were slain soon after the kidnapping. Two women were released later during the Taliban's negotiations with South Korea, and the remaining 19 were freed after Seoul repeated a long-standing commitment to withdraw its 200 soldiers in Afghanistan by year's end and prevent Christian missionaries from traveling to Afghanistan.
More than 4,300 people, mostly militants, have died in insurgency-related violence this year, according to an Associated Press tally of figures from Western and Afghan officials.