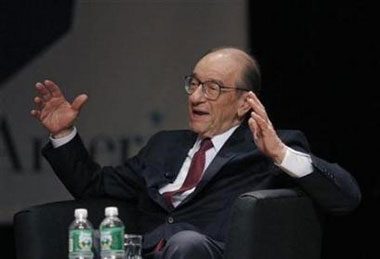 Alan Greenspan speaks at Book Expo America in New York in this file photo from June 1, 2007, to promote his new book 'The Age of Turbulence', due out on Sept 17 from Penguin Press.[Reuters] 
WASHINGTON - Former Federal Reserve Chairman Alan Greenspan said his successors at the US central bank should act cautiously in lowering interest rates because of inflation risks, according to an interview published on Sunday.
Greenspan said the Fed should be careful not to cut rates too aggressively because the risk of an "inflationary resurgence" is greater now than when he was chairman, the Financial Times reported.
The US central bank meets on Tuesday and is widely expected to cut benchmark federal funds rates by at least a quarter-percentage point to help the economy weather a housing downturn and a credit crunch.
Greenspan said the US housing slump is likely to deepen more than many analysts expect, recording as much as a double-digit drop.
The Fed is currently weighing the adverse impacts of the housing downturn on the broader economy, and recent report employers shed 4,000 jobs in August raised warning flags.
Greenspan said he would expect "as a minimum, large single-digit" percentage declines in US house prices from peak to trough, the newspaper reported. The former Fed chair said he would not be surprised if the the drop was "in double digits."
Underlying Strength
Related readings:


 Greenspan criticizes Bush policies in memoir


 Greenspan says didn't see subprime storm brewing


 Alan Greenspan's life
But Greenspan, who is promoting a memoir that hits bookstore shelves on Monday, said that while home prices have not yet hit bottom, turmoil in housing and credit markets does not look like it will produce a broader economic downturn.
"There is an underlying strength in the United States," he said in an interview on the CBS program 60 Minutes.
"And indeed, when you look around the world, even with this extraordinary credit problem, the economies seem to be holding up. But for the moment it does not look sufficiently severe that it will spiral into anything deeper," he said, according to a transcript made available before air time.
Greenspan stepped down as chair of the Federal Reserve in January 2006 after more than 18 years at the helm of the US central bank. His book is entitled, "The Age of Turbulence: Adventures in a New World."