TOKYO - Aso is generally seen as a long shot, and has conceded his chances don't look good when the party votes. The public also favors Fukuda over Aso.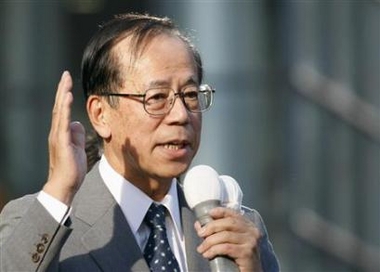 Japan's ruling Liberal Democratic Party (LDP) Presidential election candidate and former Chief Cabinet Secretary Yasuo Fukuda delivers his stump speech for the party's election in Tokyo September 16, 2007. [Reuters] 
Fifty-eight percent of respondents in a September 15-16 poll by The Yomiuri, Japan's largest daily, said Fukuda was more suitable to lead the party, while 22 percent supported Aso.
Fukuda also led Aso in a separate September 15-16 poll by the major daily Asahi. Support for Fukuda was 53 percent, while 21 percent said they want Aso to become the next prime minister.
Support for Fukuda, an Abe critic, has jumped since several party heavyweights said they would back him.
About one-third of Aso's supporters said his policies and ideas are good, while another one-third said they find him easy to relate to.
Fukuda has also promised to focus on strengthening ties with Japan's Asian neighbors and reiterated he would stay away from the Yasukuni shrine.
The two candidates vying to become Japan's next prime minister hit the road Monday to kick off their campaigns, avoiding thorny domestic issues but vowing to keep pressure on North Korea to resolve the past kidnapping of Japanese citizens.
Front-runner Yasuo Fukuda, a veteran moderate, and the more hawkish former Foreign Minister Taro Aso are the only candidates in a September 23 ruling-party leadership race. They're running to replace Prime Minister Shinzo Abe, who abruptly announced last week he would step down.
The new leader of the Liberal Democratic Party is ensured election as prime minister because of the party's majority in parliament's lower house.
Skirting more thorny issues - such as money scandals that brought Abe's Cabinet down and voter anger at a pension payout screwup - the two, speaking together in the western city of Osaka, turned to relations with North Korea as their primary message.