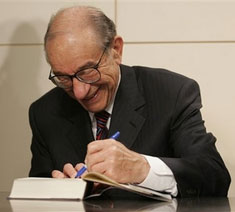 Former Federal Reserve Chairman Alan Greenspan signs his book 'The Age of Turbulence: Adventures in a New World' in New York, September 17, 2007. [AP]
Former US Federal Reserve Chairman Alan Greenspan predicted in his memoir that the world's economic fate depends on China and its market economic development by the year of 2030.
"If China continues to press ahead toward free-market economy, it will surely propel the world to new levels of prosperity," Greenspan wrote in "The Age of Turbulence: Adventures in a New World."
"Much of how the world will look in 2030 rests on this outcome," said the legendary US central bank chief.
Greenspan retired in January 2006 after more than 18 years as chairman of the Fed, the US central bank, which regulates monetary policy.
He also praised China for creating "a huge change in the world economy" after shifting toward market economy.
"It went into a seriously impressive disinflation, which brought all interest rates down, made a huge boom in the economy, a huge increase in assets," Greenspan said in a Fortune interview.
China's economy is enjoying its fifth straight year of double-digit economic growth, with the growth for the first half of this year hit 11.5 percent, according to statistics from the National Bureau of Statistics. The country has soared to be the fourth-largest economy in the world in 2005.
The former chairman emphasized the primacy of markets in his book. The success of every nation -- big or small -- will depend on the extent to which it allows free trade and open markets, Greenspan declared.
"Even as nations as mighty as the United States and China vie for economic supremacy in that new world, they may find themselves partially bending to a force more powerful still: full-blown market globalization," Greenspan wrote.
Besides China, he also mentioned the UK, France, Germany, Japan, Russia and India, spending five pages in his final chapter on the outlook beyond America.
Devoting most space to the UK, Greenspan praised the leaderships of Tony Blair and Gordon Brown, predicting that Britain "should do well." "If Britain continues its new openness (a highly reasonable expectation), it should do well in the world of 2030," he wrote.
Russia needs to "fully restore the rule of law" to develop further, and India has "great potential," he added. Japan's $4.5 trillion-economy may find it hard to counter the loss of its ranking, given that it has an "even less promising" demographic future than Europe's, Greenspan said.
(Bloomberg contributed to the story)