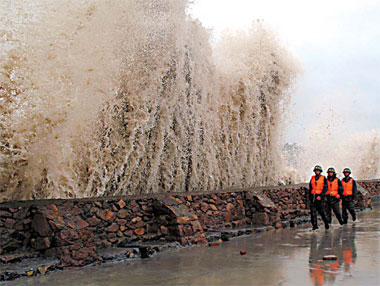 Waves batter dikes at Dongtou, an island off the coast of Zhejiang Province September 18, 2007 as Typhoon Wipha approached. Wipha landed in Zhejiang early Wednesday morning.
WENZHOU, Zhejiang -- Typhoon Wipha packing winds of 45 meters per second landed in Cangnan County, Wenzhou of east China's Zhejiang Province at 2:30 a.m. Wednesday.
More than 2 million people in east China have been relocated before the landfall of Wipha, which might be the most destructive typhoon in a decade.
East China, including the commercial hub of Shanghai, was prepared for what may be the most destructive typhoon in a decade.
Chinese President Hu Jintao and Premier Wen Jiabao on Tuesday ordered related provinces and cities to step up preparations against Wutip, recall vessels to harbor and relocate people to safety.
Super typhoon Wipha was downgraded to a severe typhoon on Tuesday evening with speed of winds at its center reducing from 198 km per hour at 4:00 p.m. to 180 km per hour at 8:00 p.m., according to the Fujian meteorological bureau.
At 8:00 p.m. on Tuesday, Wipha's center was about 173 km southeast of Fuding in Fujian, and was moving northwestward at 25 km per hour, said the bureau. It is expected to make landfall between Xiapu in Fujian and Wenzhou in Zhejiang.
It has churned up winds of up to 90 km per hour in the coast of Zhejiang. The province has received an average 31.8 mm of rain from 5:00 p.m. Monday to 2:00 p.m. Tuesday, with the maximum rainfall measuring 162 mm in some cities, the station said.
The downpours have filled some rivers and reservoirs in southeastern areas of the province to their warning marks.
By Tuesday evening, more than 2 million people in Shanghai, Fujian and Zhejiang provinces had been evacuated.
Shanghai issued a super typhoon warning on Tuesday afternoon, after Wipha was upgraded since the previous typhoon warning. More than 291,000 people in the city have been relocated by Tuesday evening.
Zhang Jiayi, deputy chief of the Shanghai flood control headquarters, said the city, with a population of 19 million, is facing its most severe test in decades.
Shanghai, Hangzhou, Suzhou and a few other cities have issued notices to close all kindergartens and middle schools.
Shanghai maritime authorities have put search boats on stand by and increased patrols of offshore waters to ensure all vessels are properly docked.
The Pinghu oil rig, situated some 400 km southwest of Shanghai on the East China Sea, is expected to bear the brunt of the typhoon and its 365 staffs have been evacuated in boats and helicopters.
FIFA has decided to postpone a women's World Cup match between Norway and Ghana from 5 p.m. on Wednesday in Shanghai to 5 p.m. on Thursday in Hangzhou, and a match between Brazil and Denmark scheduled for 8 p.m on Wednesday for 24 hours.
In Zhejiang alone, 1.59 million people have been relocated, the largest mass relocation of the province since 1949, and 39,394 vessels had returned to harbor by 9:00 p.m. Tuesday.
The government of Taizhou, southeastern Zhejiang, has closed all schools and factories, and advised the public to stay indoors.
Chen Hongyi, deputy chief of the Taizhou meteorological bureau, said the intensity of the typhoon had been close to that of Saomai, the eighth typhoon last year which claimed more than 400 lives.
"If Wipha made landfall in Taizhou, it would be the strongest typhoon in history to land in the city," he said.
Neighboring Wenzhou city issued an urgent flood warning at 2:00 p.m. on Tuesday.
The Health Department of Zhejiang has dispatched four teams of doctors to Wenzhou and Taizhou to help local people, while another eight teams are standing by.
Fujian province on China's southeastern coast has recalled 250,000 people from sea to land by 6:00 p.m. Tuesday.
Fujian has sent out 1.41 million text messages to warn the public of the upcoming typhoon, the local flood control headquarters said.
Fujian has forecast driving rain and gales of 90 kilometers per hour in the coastal areas on Tuesday and Wednesday.
Wipha could also bring gales and heavy rain to the inland province of Jiangxi to the west of Zhejiang, according to the Jiangxi meteorological observatory. Anhui Province is also forecast more rain in the coming few days.
According to reports reaching here from Taipei, Wipha has brought heavy rains to central and northern parts of Taiwan, causing power cut and halting road traffic.
The Songshan Airport in Taipei was forced to close on Tuesday, canceling 20 flights between Taipei and Jinmen.
The Central Meteorological Administration (CMA) has commenced a "Level One" emergency plan, the highest level of alert. All meteorological units are required to have personnel on duty 24 hours a day and the CMA will produce hourly reports on the location of the typhoon.
The Office of State Flood Control and Drought Relief has issued a "Level Two" flood control emergency response plan and has sent four teams to the four coastal provinces expected to be hit by Wipha.