NEW YORK - A jubilant Wall Street barreled higher Tuesday after the Federal Reserve cut its benchmark interest rate by a larger-than-expected half percentage point. The Dow Jones industrial average reacted by surging 335 points - its biggest one-day point jump in nearly five years.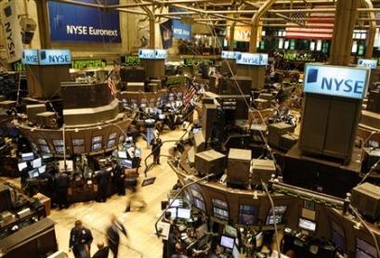 Traders work on the floor of the New York Stock Exchange, September 18, 2007. [AP]
Although some investors hoped for a rate cut of that magnitude, most were betting on a smaller, quarter-point cut in the federal funds rate. The Fed responded to the spilling of credit market problems into the rest of the economy by saying, "the tightening of credit conditions has the potential to intensify the housing (market) correction and to restrain economic growth more generally."
The Fed lowered the benchmark fed funds rate to 4.75 percent after keeping it unchanged for more than a year and not lowering the rate since 2003. It also reduced the discount rate - what it charges banks borrowing from its discount window - by a half percentage point to 5.25 percent. On August 17, the central bank lowered the discount rate by a half-point to help keep cash moving in the US banking system.
The central bank's decision and the wording of its accompanying economic assessment gratified a market that plunged during August amid fears that credit market tightness, spawned by a continuum of mortgage defaults and delinquencies, would send the economy toward recession.
There was no direct signal in the Fed's statement that it would make further rate cuts. It said "some inflation risks remain" and that it will keep monitoring inflation developments. Still, it did not call inflation its "predominant policy concern" as it did after holding rates steady in early August.
"What it says to me is you had a major shift in the last couple of months from a Fed that was very concerned about inflation to one that is concerned about the health of the financial markets, the availability of liquidity," said Jerry Webman, chief economist at Oppenheimer Funds Inc.
The Dow soared 335.97, or 2.51 percent, to 13,739.39. The last time it rose more than 300 points in one session was Oct. 15, 2002, when it gained 378 points, and Tuesday's percent increase was the biggest since April 2, 2003. The blue-chip index is now only about 1.9 percent below its record close of 14,000.41, reached in mid-July.
The Standard & Poor's 500 index rose 43.13, or 2.92 percent, to 1,519.78. The Nasdaq composite index gained 70.00, or 2.71 percent, to 2,651.66. The S&P and the Nasdaq had their largest point gains since July 29, 2002.
Small-cap stocks, badly beaten during the market's summer turmoil, shot higher. The Russell 2000 index surged 30.82, or 3.97 percent, to 806.63, the largest percentage gain since July 29, 2002.
"People had been reducing their exposure to small-caps because they're viewed as a potential riskier asset class," said John Thornton, co-portfolio manager at Stephens Investment Management Group in Houston. Also, credit tightness had stirred investor concern about smaller companies' ability to access cash.
Shorter-term Treasury issues rose and longer-term bonds fell. The yield on the benchmark 10-year Treasury note finished at 4.47 percent, the same as late Monday.
Wall Street's reaction to the rate cut was clearly positive; the Dow's gain was the biggest rise immediately following a Fed decision since April 18, 2001, when the central bank surprised the market with an unannounced rate cut. But some analysts said the Fed's response to this summer's market tumult may eventually lead investors to worry more about how bad the current credit climate is, and how vulnerable the US economy might be to it.
"The market's initial response is 'Thank you, Ben,' " Webman said. "But we also know that when people stop and look at this, people might say, 'Could this house of cards be shaky, more than even we thought it was?'"
Meanwhile, the dollar tumbled to a new all-time low against the euro after the rate cut, because lower rates make a currency a less attractive investment. Crude oil futures catapulted further into record terrain, rising 94 cents to $81.51 a barrel, and gold prices rallied to a multi-decade high.
These factors could add up to trouble for the consumer. Though the Fed tends to measure inflation after stripping out volatile food and energy prices, high commodity costs trickle down to average Americans and can dampen their spending power.
"If they were concerned about inflation before, they should be more concerned now," said Alexander Paris, economist and market analyst for Chicago-based Barrington Research. He called the half-point rate slash "overkill."
However, the mood was cheery on Wall Street, especially since the central bank's decision capped an already strong day that saw economic and corporate data come in better than expected.
Lehman Brothers Holdings Inc., the nation's fourth-largest investment bank, posted a smaller-than-anticipated 3 percent decline in its third-quarter profit compared with a year ago. Other investment banks are due to report later in the week on the most recent, tumultuous quarter.
Lehman rose $5.87, or 10 percent, to $64.49. The rest of the financial sector also soared.
Earlier Tuesday, the Labor Department's August producer price index was more favorable than the market predicted. Wholesale prices fell 1.4 percent last month, the biggest decline in 10 months. Core inflation, which eliminates food and energy prices, rose by a mild 0.2 percent, as expected.
Advancing issues outnumbered decliners by nearly 10 to 1 on the New York Stock Exchange, where consolidated volume came to 3.71 billion shares, up from 2.47 billion Monday.
In European trading, which ended before the Fed released its decision, Britain's FTSE 100 rose 1.63 percent, Germany's DAX index rose 1.27 percent and France's CAC-40 rose 2.02 percent.
In Asia, Japan's Nikkei index fell 2.02 percent and Hong Kong's Hang Seng Index fell 0.09 percent.