Tokyo must improve its ties with China, the frontrunner to become Japan's next prime minister said Sunday.
Yasuo Fukuda, an advocate of a less US-centric foreign policy, is expected to beat hawkish former foreign minister Taro Aso in the ruling Liberal Democratic Party (LDP) leadership race sparked by Shinzo Abe's abrupt decision last week to resign.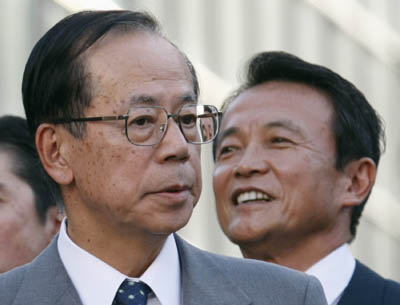 Japan's ruling Liberal Democratic Party (LDP) Presidential election candidates, former Chief Cabinet Secretary Yasuo Fukuda (L) and LDP Secretary-General Taro Aso attend their stump speeches for the party's elections in Tokyo September 16, 2007. [Reuters]
Fukuda, 71, also signaled in a series of interviews a softer approach toward the Democratic People's Republic of Korea (DPRK). Ties between the two countries have been foiled by a feud over Japanese citizens kidnapped decades ago by Pyongyang.
"The US-Japan alliance is the cornerstone and we must place weight on that. But if there are deficiencies in other areas, we should fix them," Fukuda told public broadcaster NHK.
"Prime Minister Abe visited China and South Korea (the ROK) and relations improved. We must make that trend even firmer."
Fukuda reiterated he would not visit Tokyo's Yasukuni Shrine, seen by many Asian countries as a symbol of Japan's past militarism, if he were chosen as the nation's new leader.
Sino-Japanese ties chilled under Abe's predecessor Junichiro Koizumi, largely because of the Japanese leader's visits to Yasukuni, but thawed after Abe's visit to Beijing last October.
Fukuda also sounded a softer tone normalizing ties with Pyongyang. Abe has insisted the feud over the abductees be resolved before Japan would give energy aid to the DPRK as part of a six-way nuclear disarmament deal agreed this year.
"We must not close the road to talks," he told Fuji TV. "We must show that we are willing to have discussions."
Fukuda was critical of Abe's proposal for a "broader Asia" partnership of countries that would include India, the United States and Australia - but not China.
"China is making efforts toward a free economy, so if we say they must change their system completely, that would seem to be rejecting them," Fukuda told private broadcaster Asahi TV.
But he also urged China to make its military spending more transparent. "China has a responsibility to explain ... and obtain understanding," he said.
Fukuda, the son of a prime minister and known as a "shadow foreign minister" when he served in Koizumi's Cabinet, looks on track to win Sunday's election for LDP president after gaining support of all the ruling party's biggest factions.
His victory would signal a sharp change from the 52-year-old Abe, whose conservative agenda stressed rewriting the pacifist constitution and nurturing more patriotism in the schools.
Whoever wins the LDP race is assured the premiership by virtue of the ruling coalition's huge lower house majority.
Aso yesterday conceded that he was likely to lose the party leadership election, but said he would stay in the running if only to ensure an open race.
"Yes, but if I drop out, the party would be criticized as having chosen a prime minister through back room deals," Aso said yesterday morning on public broadcaster NHK. "I have decided to run if only for the sake of holding an open election."
Abe had refused to quit after the opposition won a majority in a July upper house poll, then shocked politicians and the public by announcing his resignation last week.
The soft-spoken Fukuda stressed the importance of extending a Japanese naval mission in support of US-led military operations in Afghanistan, a step strongly urged by Washington but which Japan's opposition parties are against.
"Various countries including France, Germany and Pakistan have expressed appreciation of this activity ... and we want to continue it if we can, so we must explain this to the opposition parties," Fukuda told NHK, adding it was necessary to sell the mission to the Japanese public as well.