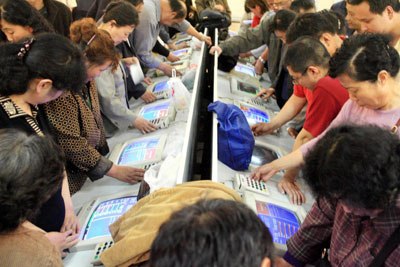 Investors monitor stock price movements at a brokerage in Jinan, East China's Shandong Province  in this file photo. [Xinhua]
China's major stock index shrugged off the latest monetary tightening measures on Monday, rising more than two percent to hit an all-time high.
The benchmark Shanghai Composite Index increased 109.21 points, or 2.06 percent, to close at 5,421.39 points. The Shenzhen Composite Index rose 1.99 percent to 1,512.29, while CSI 300 Index went up 1.88 percent to 5,498.90.
The rally came after the central bank announced an interest rate hike on Friday, the fifth so far this year and the third in less than two months. The latest monetary tightening was a response to an 11-year high inflation, a rapid growth in investment and industrial production, and trade surplus in August.
In theory, an interest rate hike is a bad news for the equity market as it increases firms' lending costs and makes bank deposits a more attractive alternative.
However, that rule does not seem to apply to China. Monday's surge was just a repetition of the market's performance on the first session after an interest rate increase this year.
Making Monday's rise more remarkable, some 2.5 to 2.8 trillion yuan is expected to be frozen for a subscription for shares in China Construction Bank, reducing the amount available for the secondary market. The country's second largest bank may make its Shanghai debut before the end of this month.
Airline shares were among the best performers, with China Eastern Airlines jumping its daily limit of 10 percent to close at 19.14 yuan per share. Air China followed with a 7.67 percent increase to 24.98 yuan, while China Southern Airlines soared 5.69 percent to 27.32 yuan.
Steel shares were also strong. Baosteel rose 3.23 percent to 20.44 yuan, and Angang Steel and Iron Co. surged 5.26 percent to 38.2 yuan.
In the banking sector, China Merchants Bank rose 1.32 percent to 35.38 yuan, compared with a 0.77 percent rise in the Industrial and Commercial Bank to 6.54 yuan.
Insurance shares also pushed up the market, with China Life increasing 3.32 percent to 55.04 yuan, followed by a 2.18 percent rise in Ping An of China to 107.46 yuan.