Good ties with Japan of 'great importance'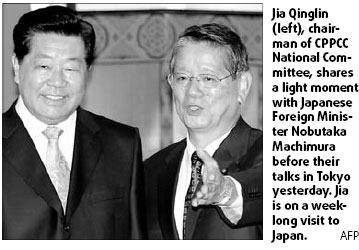 TOKYO: China has always attached great importance to Sino-Japanese ties, the country's top political advisor said yesterday.
Chairman of the National Committee of the Chinese People's Political Consultative Conference (CPPCC) Jia Qinglin said China will pursue good-neighborly relations and friendship with Japan.
At his meeting with Eda Satsuki, president of Japan's House of Councilors, Jia said his ongoing visit to Japan is aimed at improving bilateral relations further.

Today's Top News
Editor's picks
Most Viewed