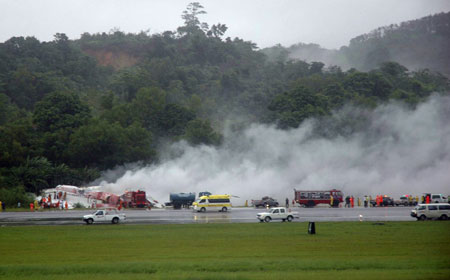 Rescue vehicles surround the wreckage of a crashed Thai airliner in Phuket September 16, 2007. [Reuters] 
PHUKET, Thailand - A budget airliner crashed on the Thai resort island of Phuket on Sunday, killing 88 people as it broke up and burst into flames while trying to land in driving rain, a senior official said.
Forty two people were injured, Phuket deputy governor Vorapot Rajsima told a news conference, and a hospital official said at least five of the survivors were seriously hurt.
Flight manifests at Phuket airport suggested well over half the 123 passengers on the flight from the Thai capital were foreign and an Airports of Thailand official in Bangkok said most of the foreigners were European holidaymakers.
There were seven crew members on board. Earlier reports had said there were five.
Eight Britons, eight Thais, five Germans and two Australians were among 42 known survivors, hospital workers said.
"The plane looks as though it veered off the runway into the side of a hill," said Leslie Quahe, a Singaporean pastor who arrived at the scene about an hour after the crash.
"I was coming down the hill and saw smoke coming from the plane. It had broken into several parts," Quahe said.
Officials said the McDonnell Douglas MD-82 had broken in two on impact on landing on the Andaman Sea paradise isle, which was hit by the December 2004 Indian Ocean tsunami.
The tail section of the One-Two-Go flight lay on the runway and the rest was among the trees lining it.
"I'm deeply sorry about this tragic event," Udom Tantiprasongchai, chairman of Orient Thai Airlines which operates the low cost airline, told reporters, promising a full investigation.