BAGHDAD - Militants stepped up attacks across Iraq on Sunday, killing at least 30 people in a spate of bombings and shootings that followed a threat by al-Qaeda to launch a new phase of violence.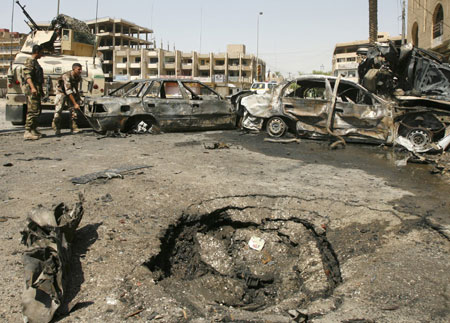 A crater is seen on the road after a car bomb attack in Baghdad September 16, 2007. A car bomb killed two people and wounded five in Mansour district in western Baghdad, police said. [Reuters] 
The US military announced it had caught a suspected al-Qaeda militant believed to be responsible for the killing last week of a key Sunni Arab tribal leader in Anbar province.
Sheikh Abdul Sattar Abu Risha, who met US President George W. Bush two weeks ago in Anbar, was killed in a bomb attack on Thursday near his home. He led an alliance of tribes that helped US troops push al-Qaeda out of much of the vast western area.
Suspected al-Qaeda militants shot dead 14 people in the predominantly Sunni Arab town of Muqdadiya north of Baghdad and torched at least 12 shops in the town, Iraqi police said.
A suicide bomber also killed six people at an outdoor cafe in the northern town of Tuz Khurmato. In Baghdad, eight people were killed in four separate bombings.
Besides the attacks by militants, Iraqi police said security contractors were involved in an incident in which up to 10 people were shot dead in Baghdad's western Mansour district.
The US military said security contractors working for the State Department were involved in an incident, but gave no further details. It was unclear what triggered the shooting.
An al-Qaeda-led group, the Islamic State in Iraq, said on Saturday it was launching a new round of attacks to mark the Muslim holy month of Ramadan, which minority Sunnis started observing on Thursday and majority Shi'ites on Friday.
A sustained campaign of violence would undermine US and Iraqi assertions that a seven-month security crackdown had disrupted the Sunni Islamist network's operations in and around the Iraqi capital while also reducing attacks from other groups.
Bush, announcing a limited withdrawal of around 20,000 US troops by next July, last week said the cuts were possible because US forces had made significant progress in improving security and "ordinary life is beginning to return" to Baghdad.
A US commander said on Sunday that al-Qaeda had been "neutralised inside Baghdad proper", and was fractured and off-balance elsewhere. But he said it was still a threat.
"Al-Qaeda remains dangerous and remains capable of significant attacks. Civilian death tolls are too high," Brigadier-General Joe Anderson, chief of staff of the Multinational Corps Iraq, told a news conference.
Plot to kill tribal leaders
The Islamic State in Iraq, believed to be a front for the main al-Qaeda in Iraq network, has said it was behind the killing of Abu Risha. It has warned it would target other tribal leaders who cooperated with security forces.
The US military named the captured militant believed to be behind Abu Risha's killing as Fallah al-Jumayli.
"Intelligence reports indicate al-Jumayli is involved in a plot to kill key leaders in the tribal awakening," a US military statement said, referring to the Anbar tribal alliance.
In an effort to replicate the recent progress in Anbar, US forces are training about 16,000 Iraqis in volatile areas south of Baghdad to join security forces, a US general said.
The 16,000 were mainly Sunni Arabs with connections to tribes in Anbar. They would operate in a swathe of land from Baghdad's southern outskirts, including an al-Qaeda stronghold known as the "triangle of death", eastwards to the Iran border.
On the political front, Shi'ite cleric Moqtada al-Sadr's political movement said it had no immediate plan to bring down Prime Minister Nuri al-Maliki's government despite pulling out of his ruling Shi'ite Alliance.
Sadr's bloc withdrew from Maliki's parliamentary coalition on Saturday, leaving him with the support of only about a half of the legislature's 275 lawmakers.
Maliki can still count on the backing of two Shi'ite Islamist parties and the two main Kurdish parties in parliament, and could probably survive with the support of a handful of independent lawmakers.
Police said seven people were wounded in the shootings in Muqdadiya, which lies in Diyala province where al-Qaeda in Iraq had a strong presence until recent US and Iraqi offensives.