BAGHDAD - Four suicide bombers hit Kurdish Yazidi communities with nearly simultaneous attacks on Tuesday, killing at least 175 people and wounding 200 others, said Iraqi military and local officials in northwest Iraq.
The death toll was the highest in a concerted attack since November 23, when 215 people were killed by mortar fire and five car bombs in Baghdad's Shiite enclave of Sadr City.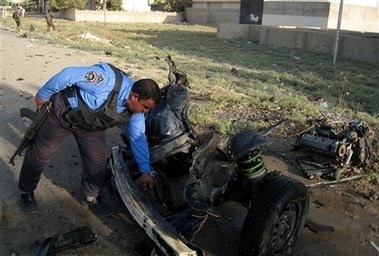 An Iraqi policeman inspects the wreckage of a car used in a suicide bombing on a road in southern Kirkuk, 290 kilometers (180 miles) north of Baghdad, Iraq on Tuesday, Aug. 14, 2007.[AP]
The bombs tore through the districts near Qahataniya, 75 miles west of Mosul, Iraq's third-largest city, said Abdul-Rahman al-Shimiri, the top government official in the area, and Iraq army Capt. Mohammed Ahmed.
They said at least 30 homes were destroyed in the bombings.
Yazidis are members of an ancient, primarily Kurdish, religious sect that worships an angel figure some that Christians and Muslims believe to be the devil.
Dhakil Qassim, mayor of Sinjar, a town near the attacks, said al-Qaida in Iraq was behind the bombings, citing what he said were Kurdish government intelligence reports.
"This is a terrorist act and the people targeted are poor Yazidis who have nothing to do with the armed conflict," Qassim said. "Al-Qaida fighters are very active in this area near the Syrian border."
Witnesses also said US helicopters swooped into the area to evacuate the wound to hospitals in Dahuk, a Kurdish city near the Turkish border and about 60 miles north of Qahataniya.
Civilians car and ambulances also rushed the wounded to hospitals in Dahuk, police said.
Ghassan Salim, a 40-year-old Yazidi teacher said, he went to a local hospital to donate blood after seeing lines of ambulances and cars carrying the wounded toward Sinjar hospital.
"We went to the hospital and the wounded told us about the attacks. I gave blood. I saw many maimed people with no legs or hands.
"Many of the wounded were left in the hospital garage or in the streets because the hospital is small," he said.