BAGHDAD -- Iraq's prime minister appeared to clear the way Monday - with a last-minute push from the US ambassador - for a crisis council that seeks to save his crumbling government.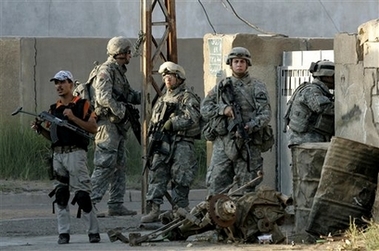 An Iraqi member of the Amariyah Volunteers, former insurgents who have joined forces with the US and Iraqi troops to fight al-Qaida, and US Army troops from Alpha Company, 1st Battalion, 5th Cavalry Regiment, 2nd Brigade, 1st Cavalry Division prepare to search a house during an operation in the Amariyah neighborhood of west Baghdad, Iraq on Monday, Aug. 13, 2007. [AP]
The US military, meanwhile, announced a third major operation since additional US troops arrived and said it would target al-Qaida in Iraq and Iranian-allied Shiite militia fighters nationwide. The military gave few other details.
But the sinking fortunes of Prime Minister Nouri al-Maliki and his Shiite-led administration have become something of a second front for Washington.
Al-Maliki's government - a shaky coalition of Shiites, Sunnis and Kurds - has been gutted by boycotts and defections. A full-scale disintegration could touch off power grabs on all sides and seriously complicate US-led efforts to stabilize Iraq.
Al-Maliki has struggled over the past days to pull together a summit of Iraq's main religious and ethnic groups. The meeting finally appeared likely after US Ambassador Ryan Crocker called on Vice President Tariq al-Hashemi, the lone Sunni Arab invited to the talks that are scheduled for Tuesday. Al-Hashemi's attendance had been in question.
A senior American official, who spoke in Baghdad, said the stage was set for major changes in the "structure, nature and direction of the Iraqi state." The official spoke on condition of anonymity because of the delicate nature of the planned gathering.
But ending the political impasse would likely require concessions from al-Maliki's embattled government toward Sunnis, who account for up to 20 percent of Iraq's population but complain they have been sidelined in trying to rebuild Iraq after Saddam Hussein.
The importance of the Sunni role has taken on greater dimensions this year. Sunni tribal leaders, clerics and others have increasingly turned against the violence of al-Qaida in Iraq and helped bring significant US military gains.
Any political changes in Iraq also have reverberations around the region. Iran, the world's most populous Shiite nation, wants Iraq's majority Shiites to remain the leading voice. The Arab world, including heavyweight Saudi Arabia, offer backing to fellow Sunnis in Iraq.
The only certainty at the moment, however, is that al-Maliki's 15-month-old government is in deep trouble.
The 40 seats in al-Maliki's Cabinet are nearly half empty after a series of resignations and boycotts. Critical legislation demanded by the prime minister's American patrons has languished for months with no promise of movement - even as the top two American officials here face a mid-September deadline to report to Congress on progress in Iraq.
Crocker and US commander Gen. David Petraeus are expected to begin congressional testimony the week of Sept. 10.
The thicket of Iraqi politics defies straightforward explanations.
But with confusing details stripped away, al-Maliki, a religious Shiite, was expected to try to co-opt al-Hashemi, a moderate Sunni, with promises of a greater say in decision-making. There also looms the possibility for another important olive branch: giving ground on Sunni demands for the release of prisoners being held without charge.
If al-Maliki were able to bring al-Hashemi on board - which remained uncertain - he then could try to welcome back Sunni Cabinet ministers who quit earlier this month.
Should they refuse, al-Maliki has said he was ready to name rival Sunnis to the vacant Cabinet positions. He even mentioned reaching out to Sunni tribal sheiks in the western Anbar province, where the Sunni insurgency was born.
Al-Hashemi is a member of the Presidency Council along with the Shiite Vice President Adil Abdul-Mahdi, President Jalal Talabani, a Kurd. In this role, al-Hashemi has been able to block key legislation from reaching parliament.
Al-Hashemi was said to have been the holdout against much of the U.S.-sought benchmark legislation - such as the oil law and the law that would rehabilitate some lower-ranking members of Saddam's Baath Party.
But reaching such a deal was expected to test al-Maliki's willingness to accommodate the Sunni demands for prisoner releases, a greater say in government and more attention to problems of the Sunni minority that had run the country and heavily oppressed Shiites for more than three decades.
The senior US official said the meeting could re-energize political reconciliation.
"This isn't a one-off kind of thing," the official said. "A lot of this is developing mechanisms which can be used, not instant solutions but understandings that the solutions are going to be needed over time. And making a commitment to a mechanism, a process and keeping at that process until Iraq is in a better place."
He said Crocker would be available for consultations if needed but would not participate in the meetings, which the official called an Iraqi initiative.
The US military named its new offensive "Operation Phantom Strike" and said it would seek to build on the successes of recent offensives in Baghdad and surrounding areas.
The statement singled out Sunni insurgents linked to al-Qaida in Iraq and Shiite extremists the US military claims are backed by Iran. The military has stepped up its rhetoric against Tehran, saying it supplies the militants with arms and training to attack US forces. Iran denies the allegations.
The military statement did not give details but said US forces would increase pressure on al-Qaida and its Sunni militant allies and Shiite militiamen nationwide. Many of those fighters have fled the six-month-old crackdown in Baghdad and central Iraq and were believed trying to set up bases of operation farther afield.
A US soldier was killed Monday during fighting in Baghdad, the military said. At least 32 US troops have been killed in Iraq this month.
"My intent is to continue to pressure (al-Qaida in Iraq) and other extremist elements throughout Iraq to reduce their capabilities," said Lt. Gen. Ray Odierno, the US second-in-command.
Iraqi judicial authorities also said the third trial against former officials with Saddam's ousted regime would begin on Aug. 21. Saddam's cousin Ali Hassan al-Majid, known as "Chemical Ali," and 14 other defendants will face charges in the brutal crushing of a Shiite uprising after the 1991 Gulf War.