LIMA, Peru -- A powerful earthquake shook Peru's coast near the capital on Wednesday, killing at least 17 people as it toppled buildings and caused hundreds to flee office buildings in Lima.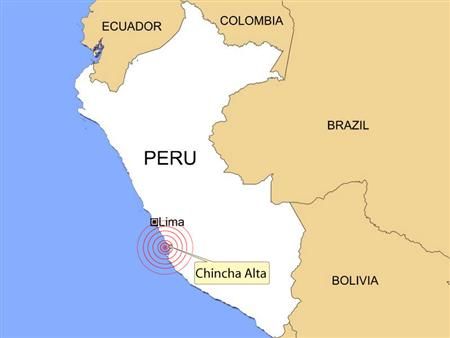 Map of Peru locating Lima where a 7.9 magnitude earthquake kills at least 17 on Wednesday. [File]
A tsunami warning was issued for South America's Pacific coast.
The highly respected Cable new station Canal N reported that a church in the city of Ica south of Lima collapsed, killing 17 people and injuring 70.
The US Geological Survey said the 7.9 magnitude earthquake hit about 90 miles southeast of Lima at a depth of about 25 miles.
The quake toppled houses and caused panic in the capital. A short and weaker aftershock followed.

Peruvian emergency teams ordered residents to evacuate low-lying areas in the port city of Callao, but emergency officials said no deaths were reported.
"At this time, there is no big or serious damage. Some houses have been knocked over, yes, as have some ceilings, but there are no direct victims," Luis Palomino, head of Peru's civil defense agency.
Radio stations said there was a fire in one district of Lima and that several poorly constructed homes were knocked down in Pisco, a town near the epicenter of the quake.
"I was playing soccer when the quake hit and I had to run back to my office because I am the chief of security. Now I am going to check on my family," said Juan Francisco Acevedo, 29, who works for an Internet company in Lima.
Ambulance sirens blared in the darkened capital where windows of storefronts shattered and the health ministry declared a disaster.
"People here hugging and crying in fear on the streets," said Cristyane Marusiak, a 31-year-old resident.
The US Geological Survey at first said there were two earthquakes within minutes of each other but later amended its reports to show that one quake struck about 90 miles (145 km) southeast of Lima at a depth of around 25 miles (40 km).
It was followed by nine aftershocks ranging in magnitude from 6 to the upper 4s, said Dale Grant, a geophysicist at the USGS's National Earthquake Information Center in Golden, Colorado.
The USGS says earthquakes measuring more than 7 magnitude often result in fatalities.
In neighboring Chile, officials said they saw no risk of a tsunami on its Pacific coastline.