Heavy rains spawned flooding that left "hundreds" dead or missing in North Korea and destroyed more than 30,000 homes, the country's media reported Tuesday.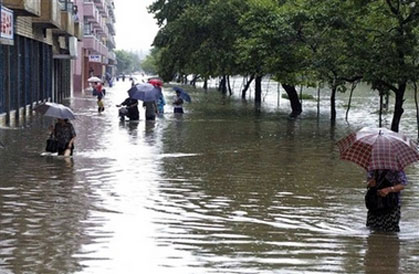 In this photo taken by Korean Central News Agency (KCNA) and released by Korea News Service, people wade through a flooded street in Pyongyang, North Korea, Saturday Aug 11, 2007.  [AP]

The official Korean Central News Agency said preliminary information revealed massive casualties after the storms that began last week, but gave no specific figures.
It said the rain also flooded tens of thousands of acres of farmland in the country that suffers from food shortages.
"The heavy rain destroyed at least 800 public buildings, over 540 bridges, 70 sections of railroads and at least 1,100 vehicles, pumps and electric motors," KCNA said.
Hardest hit appeared to be Kangwon province, where KCNA said there were "huge casualties" and that homes for more than 20,000 families were partly or completely destroyed. The effects also reached to the North Korean capital, Pyongyang.
"The material damage so far is estimated to be very big," KCNA said. "This unceasing heavy rain destroyed the nation's major railways, roads and bridges, suspended power supply and cut off the communications network."
In a statement Tuesday, the International Federation of Red Cross and Red Crescent Societies also noted the damage from the weather and said the national Red Cross was on a 24-hour alert. The statement gave no details of deaths and only mentioned five people missing in an initial series of reports that did not include all areas affected.
The international federation said it had given disaster kits to 500 homeless families with blankets, kitchen sets, water containers and other necessities.