GHAZNI, Afghanistan -- South Korean diplomats began new talks with Afghanistan's Taliban militia Monday to free 21 hostages amid fresh hopes two sick captives would be released soon.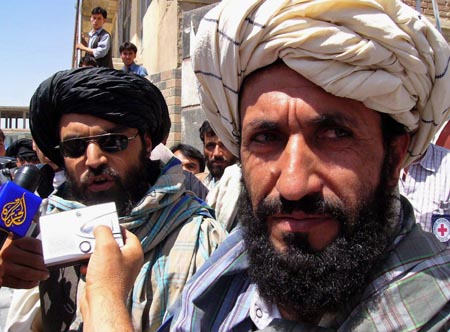 Taliban negotiator Qari Bashir (L) speaks to the media as fellow negotiator Mawlavi Nasrullah looks on in Ghazni, southwest of Kabul, August 11, 2007. [Reuters]

The fourth day of face-to-face negotiations over the fate of the Christian aid workers was under way in the town of Ghazni, south of Kabul, Ghazni province police chief Alishah Ahmadzai, media reported.
Authorities were hoping the hardline Islamic militia would fulfill promises made over the weekend to free two women Monday, he said.
The Taliban have shot dead two of the hostages captured in Ghazni province on July 19 because the government had not agreed to its demand to free Taliban prisoners from jail.
The hardliners have threatened to kill more of the captives. But the group announced late Saturday, and again Sunday, that two of the female captives women who are ill would be freed as a "gesture of good will."
No release materialised and the Taliban could not be reached for comment.
Ghazni governor Mirajuddin Pattan said Monday: "We hope that two female hostages will be freed today."
The South Korean embassy in Kabul would not comment on any possible release.
"Until they come, we cannot say anything," a spokesman said on condition of anonymity. "We are still waiting.
"The one thing clear is that our negotiating team has maintained a good channel with the Taliban," he added.
The negotiations have been held at the offices of the Afghan Red Crescent Society in Ghazni town, about 140 kilometres (90 miles) from Kabul.
For a second day Monday authorities in Ghazni barred journalists from the talks venue.
The talks are seen as one of the last hopes for the 21 captives with the government repeatedly rejecting the demand for a prisoner swap.
Kabul was heavily criticised, including by Washington, for freeing five Taliban prisoners in March to save the life of an Italian journalist captured by the insurgents.
The extremist militia was also involved in the separate abduction mid-July of two German engineers, one of whom has since been killed.
The Taliban have also demanded a prisoner swap for the surviving German, who is being held with four Afghans.
The Taliban ruled Afghanistan between 1996 and 2001, when they were driven out by a US-led coalition for sheltering Al-Qaeda, which was blamed for the September 11 attacks in the United States.