BAGHDAD - Rescuers dug through the muddy wreckage of collapsed clay houses in northwest Iraq on Wednesday, uncovering victims of four suicide bombings that Iraqi officials said killed at least 200 people in one of the worst attacks of the war.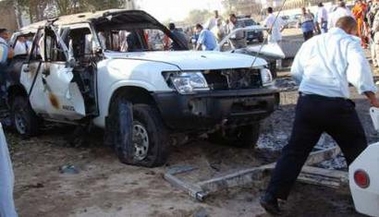 A destroyed vehicle lies at the scene of a suicide bomb attack in Hilla, about 100 km (60 miles) south of Baghdad, August 15, 2007. [Reuters]
The victims were members of a small Kurdish sect - the Yazidis - sometimes attacked by Muslim extremists who consider them infidels.
Four suicide truck bombers struck nearly simultaneously on Tuesday, killing more people than any other concerted attack since Nov. 23, when 215 people were killed by mortar fire and five car bombs in Baghdad's Shiite Muslim enclave of Sadr City.
It was most vicious attack yet against the Yazidis, an ancient religious community in the region. Some 300 people were wounded in the blasts, said Dakhil Qassim, the mayor of the nearby town of Sinjar.
Qassim said the four trucks approached the town of Qahataniya, 75 miles west of Mosul, Iraq's third-largest city, from dirt roads and all exploded within minutes of each other. He said the casualty tolls were expected to rise.
"We are still digging with our hands and shovels because we can't use cranes because many of the houses were built of clay," Qassim said. "We are expecting to reach the final death toll tomorrow or day after tomorrow as we are getting only pieces of bodies."