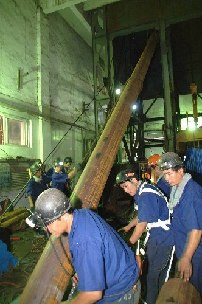 Rescuers put a pipe in place to pump water from flooded shafts at Huayuan Coal Mine in East China's Shandong Province on August 21, 2007. [Xinhua]
Rescue workers are still working against time to search for the 181 miners trapped at two collieries in east China's Shandong Province since Friday, despite dimming hopes of their survival four days after a swollen river flooded the pits.
An estimated 12.6 million cubic meters of water swept through a 65-meter wide breach in the Wenhe River levee and poured down the two pits before the breach was blocked early on Sunday.
The flood volume was "unprecedented" in any colliery flooding accidents in China in recent years, said Shang Dengying, an official with State Administration of Coal Mine Safety.
"It would take about 100 days to drain the flood water, even if 5,000 cubic meters is pumped out every hour," said Bu Changsen, a flood prevention expert with the rescue headquarters.
Not to mention the subsequent silt clearing, ventilation and pipe laying operations in the pit, he said. "The rescue operation is not progressing as quickly as we hope."
By Tuesday afternoon, the water level at Huayuan Mine where 172 miners have been trapped since Friday, had fallen by 24.5 meters to 68.1 meters. Yet the emergency rescue headquarters said there were still an estimated 98 meters from the 14 nearest miners, who were 208 meters below the surface.
Four pumps are extracting 660 cubic meters of water per hour from the Huayuan Mine, about 150 km south of the provincial capital Jinan. About 10 km away, another pump is taking water from Minggong Mine, where nine miners are trapped in 145,000 cubic meters of flood water.
Related readings:


 Hope fades for survival of 181 trapped miners


 Water pumped to save trapped miners in E. China


 Mine rescue operation continues as hope fades


 172 missing after surface water floods coal mine in east China


 All 14 trapped miners in east China rescued


 69 trapped miners rescued alive after 3 days
Two more pumps, which can jointly draw 1,160 cubic meters of water per hour, are expected to be commissioned on Wednesday, according to the rescue headquarters.
"We need to install a new derrick first, and the two new pumps are not likely to be operational anytime before Wednesday afternoon," said Ba Yanping, a senior executive of China Coal Group.
Four drilling sets were called in from the Shengli Oilfield on Monday to drill wells to divert water from the flooded shafts, but had dug only 16 meters deep so far.
Around 120 cubic meters of water can be pulled out via each well per hour, the headquarters said.
The rescue headquarters are waiting for more powerful drilling machines to speed up the operation.
The flooding occurred at around 2:30 p.m. Friday first at Huayuan Mining Co. Ltd in the city of Xintai, and later Minggong Mine.
In the Huayuan pit, 756 miners were working when the accident happened, and 584 managed to escape. Management of the mine, headed by general manager Xu Qinyu, of the Huayuan Mining Co. Ltd, were at the site to guide the disoriented miners in the evacuation.
"That was the fortune out of a thousand misfortunes," said Li Yizhong, director of the State Administration of Work Safety.
Yin Changwen, a hydrological expert, said the embankments of the Wenhe river had structural flaws as they were based on sandy earth.
"Even if the rainfall is normal, the embankments also have the risk of being breached," said Yin when analyzing the cause of the levee breach of the Wen river which caused the flooding of the collieries.
Experts are working on a plan to treat the sandy ground near the Huayuan mine to prevent floodwater triggered by future rain from entering the shaft.
Of the 95 people working in the Minggong pit, 86 escaped.
President Hu Jintao and Premier Wen Jiabao have asked rescuers to "promptly mobilize all equipment and personnel resources available and take all necessary measures to rescue the trapped miners".
Families of the victims, most of whom live in the Huayuan miners community nearby, are awaiting news of the rescue progress.
The tragedy has been an immense blow for the community of 5,500 families: one out of every 50 families has someone trapped down the pit, and some of the victims are related.
"Please, the government must do something to save them," said Wang Kuitao, who escaped from almost 1,000 meters below ground in the Huayuan pit. He never went home because his younger brother, an electrician, remains trapped.
Management of Huayuan mine has sent 545 employees to counsel the families. Sixty family members had been hospitalized with high blood pressure or heart problems, said Huangpu Tinghua, deputy general manager of Huayuan Mining Co. Ltd.
Huayuan is a joint-stock company that produces 750,000 tons a year and employs 6,000 people.
The adjacent Minggong mine produces 150,000 tons annually.