XINTAI, Shandong -- Hopes for the survival of 181 miners trapped in two separate flooded coal mines in east China faded on Monday, but the search operation continued.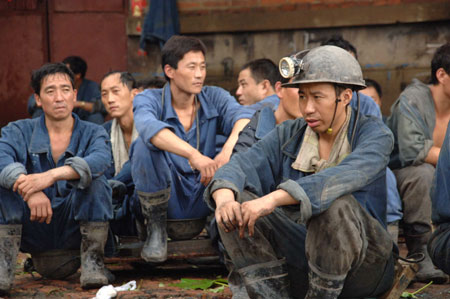 Rescuers take a rest outside a flooded coal mine in Xintai City, East China's Shandong Province, Aug. 18, 2007. One hundred and seventy-two miners were trapped in a flooded coal mine in Xintai, authoritative sources said on Saturday morning. [Xinhua]
Five pumps were used to expel water from the Huayuan Coal Mine, about 150 km south of Jinan, the provincial capital of Shandong, and Minggong Coal Mine, 10 km from the Huayuan Mine.
The water level in the Huayuan mine continued to drop after a 50-meter-long levee breach of the local Wenhe River was blocked early Sunday by more than 2,000 troops, armed police and others. The breach led to the flooding of the two mines.
At 6:00 am on Monday, the water level in the Huayuan mine, where four pumps were operating to expel 660 cubic meters of water per hour, had fallen by 8.9 meters in 12 hours.
Two pumps each drawing 1,000 cubic meters per hour would soon be operational at the Huayuan mine, said Bu Changsen, a flood prevention expert with the rescue headquarters.
The first-phase pumping operation would reach 5,000 cubic meters per hour, said Bu. The Huayuan mine was estimated to be filled with 12 million cubic meters of water.
More pumps are being transported to the Huayuan mine.
Meanwhile, four well drilling sets called in from the Shengli Oilfield in the east of the province were in place at the mine and one had started drilling.
The drilling of wells from the ground to the flooded shaft will help speed up the pumping progress, said Bu.
The flooding happened on Friday first at the Huayuan Mining Co. Ltd in Xintai City, and later at Minggong Coal Mine. When the flooding struck around 2:30 pm 756 miners were working underground at Huayuan Coal Mine, and 584 managed to escape.
Ninety-five miners were working inside Minggong Coal Mine when the flooding occurred at around 8:45 pm on Friday, 86 escaped.
One pump is operational at the Minggong mine filled with an estimated 145,000 cubic meters of water.
Torrential rains had swept the area over Xintai on Friday and early Saturday, dropping 232 mm of water and triggering a flash flood and a 50-meter breach in a levee on the Wenhe River.
Floodwater from the river poured through an obsolete shaft into Huayuan Mine at 2:30 pm Friday.
President Hu Jintao and Premier Wen Jiabao late on Saturday asked rescuers to "promptly mobilize all equipment and personnel resources available and take all necessary measures to rescue the trapped miners".
Four temporary working groups have been set up to deal with the aftermath of the flooding at both mines, including one for compensation and another for the reception of relatives of the trapped miners.
Of the 172 trapped miners at Huayuan Coal Mine, 111 were confirmed to be formally employed, and the rest were said to be transient rural workers.
Huayuan Mining Co. Ltd., built in 1957, is a licensed enterprise with an annual capacity of 750,000 tons.
Minggong Coal Mine is capable of producing 150,000 tons of coal a year.