BISHKEK -- Chinese President Hu Jintao met with Kyrgyz Prime Minister Almaz Atambayev on Wednesday. Both sides pledged to make further efforts to promote trade and economic cooperation.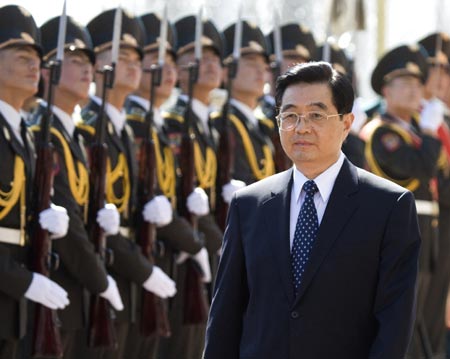 Chinese President Hu Jintao inspects the honour guard during an official welcoming ceremony in Bishkek August 14, 2007. Chinese President Hu Jintao arrived in Bishkek Tuesday for a state visit and a Shanghai Cooperation Organization (SCO) summit, Xinhua News Agency reported. [Reuters]
Hu hailed the fast development of Sino-Kyrgyz relations since the two countries established diplomatic ties 15 years ago, and lauded the frequent exchanges of visits between the two countries and the pragmatic cooperation between the two sides in various fields, saying they enhanced mutual political trust and yielded significant and tangible benefits for the two peoples.
Both countries have also supported each other in international and regional affairs and contributed to regional peace, stability and prosperity, Hu added.
On Sino-Kyrgyz cooperation, Hu praised its achievement in a wide range of fields such as trade and economy, transport, energy, mineral exploration, telecommunication and agriculture, saying bilateral trade volumes achieved several record highs in a row and a string of large-scale cooperation projects have been set into operation one after another. Bilateral cooperation has broad prospects for development.
The Chinese president hoped that both countries would continuously strive to create a favorable environment for bilateral cooperation, regulate trade order, protect the legitimate rights of enterprises, balance trade and push trade and economic cooperation to a new level to further benefit the two peoples.
For his part, Atambayev said the Kyrgyz-Chinese friendship has a long history, and the Kyrgyz government and people treasure the friendship with the Chinese people and appreciate China's support.
He went on to say that China's steady and fast development has brought opportunities and benefit for its neighbors including Kyrgyzstan, and his country is keen to expand trade and economic cooperation with China.
The prime minister hoped both sides would further enhance cooperation in such fields as trade, investment, infrastructure construction, energy and natural resources.
Hu arrived in the capital of Kyrgyzstan Tuesday for a two-day visit, his first state visit to the Central Asian country. He will also attend the Shanghai Cooperation Organization summit slated for Thursday.
Official figures show trade volume between China and Kyrgyzstan reached 2.26 billion US dollars last year, up 128.6 percent from the previous year.