BAGHDAD - Sunni politicians maintained a hard line Monday after Iraqi Prime Minister Nouri al-Maliki invited key Sunni and Kurdish allies to a crisis conference in a desperate bid to reach a compromise among Iraq's divided factions.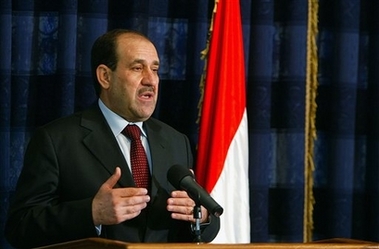 Iraqi Prime Minister Nouri al-Maliki talks to the media during a press conference in the heavily fortified Green Zone on Sunday, Aug. 12, 2007 in Baghdad, Iraq. Al-Maliki last week made his second trip to Iran since taking office in what many critics claimed was proof of Tehran's influence over his government. The Shiite leader defended the trip and said he would continue traveling to other countries to seek help in stemming the violence. [AP]
With the political process stalled, the US military pressed ahead with its efforts to crackdown on the violence, launching a new offensive against extremists on both sides of the sectarian divide.
Operation Phantom Strike would build on the successes during recent offensives in Baghdad and surrounding areas, the military said.
The statement singled out Sunni insurgents linked to al-Qaida in Iraq and said the Shiite extremists were being backed by Iran. The military has stepped up its rhetoric recently against Tehran, which is accused of supplying militias with arms and training to attack US forces. Iran denies the allegations.
"Coalition forces and Iraqi security forces continue to achieve successes and pursue security throughout many areas of Iraq," the US second-in-command Lt. Gen. Ray Odierno said. "My intent is to continue to pressure AQI and other extremist elements throughout Iraq to reduce their capabilities."
Iraqi judicial authorities also said the third trial against former officials with Saddam Hussein's ousted regime would begin on Aug. 21. Saddam's cousin Ali Hassan al-Majid, known as "Chemical Ali," and 14 other defendants will face charges in the brutal crushing of a Shiite uprising after the 1991 Gulf War.
Al-Maliki called for the meeting during a news conference Sunday and said he hoped it could take place in the next two days as he faces growing impatience with his government's perceived Shiite bias and failure to achieve reconciliation or to stop the sectarian violence threatening to tear the country apart.
It was a limited invite, including President Jalal Talabani, a Kurd, Vice President Tariq al-Hashemi, a moderate Sunni, Vice President Adel Abdul-Mahdi, a Shiite, and Massoud Barzani, the leader of the autonomous Kurdish region in northern Iraq.
Abdul-Mahdi's office said he and Barzani would attend. Al-Hashemi's office said it planned to give its answer later Monday.