Living in perfect harmony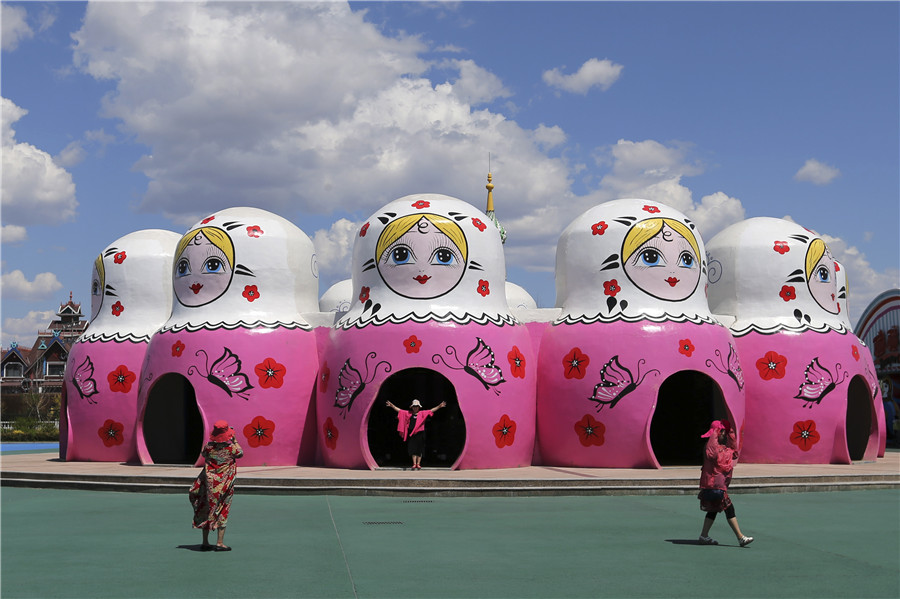 Thirty-meter tall matryoshka dolls at Matryoshka Square in Manzhouli, the Inner Mongolia autonomous region. [Photo by Wang Zhuangfei/China Daily]
When it comes to Inner Mongolia, we usually think of expansive grassland, where cattle and sheep graze beside a meadow. But the Inner Mongolia autonomous region is not only China's largest pastoral region, but also China's first provincial-level ethnic region.
And the 70th anniversary of the establishment of the autonomous region will be held in Hohhot this month.
The region covers an area of 1.18 million square kilometers, accounting for 12.3 percent of the total area of the country, and is home to 25.11 million Han, Mongolian, Manchu and 55 other ethnic groups who live harmoniously.
People from all ethnic groups help each other, work together, and have built the region into a fertile land of culture and inclusive development.
In Hohhot, the story of the "grassland hero sisters", which influenced generations of young people, has been choreographed into a musical.
And, in Ulanhot, people share their signature dishes in Xing'an Street's multiethnic community. A food festival has been held for seven consecutive years.
Inner Mongolia shares a 4,200-km border with Mongolia and Russia.