Britain's tourism income set to double to 360 bln USD in decade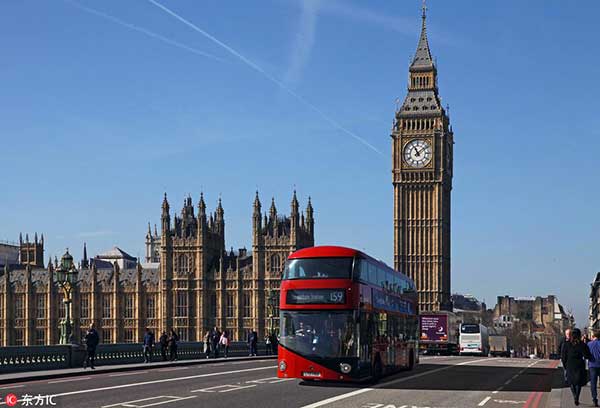 Visit Britain said that while the country is seeing strong growth, with a record 23.1 million inbound visits from January to July this year, up 8 percent on 2016, tourism is a fiercely competitive global industry.[Photo/IC]
Tourism could be worth almost $360 billion to Britain's economy within a decade, the head of the British Tourist Authority (BTA) said Friday.
It would represent a more than doubling of the $170 billion currently generated in Britain through the tourism sector, said Steve Ridgway, chairman of the BTA.
The national tourism agency Visit Britain said the tourism industry's bid for a potential sector deal under the British government's industrial strategy is a step closer following sign-off on its key priority tasks from the Tourism Industry Council (TIC).
Agreement from the TIC, a group set up to collaborate between government and the tourism industry, clears the way for the tourism sector bid, led by Ridgway, to be taken forward for negotiation with government ministers.
Ridgway, former CEO of Virgin Atlantic Airways, said Friday: "Tourism is one of our most valuable export industries and a job creator across Britain and is already showing strong growth.
"We believe there is the potential to more than double the value of this industry to 268 billion pounds ($360 billion) within a decade, increase employment to 3.8 million, and boost productivity."
Visit Britain said that while the country is seeing strong growth, with a record 23.1 million inbound visits from January to July this year, up 8 percent on 2016, tourism is a fiercely competitive global industry.
"Britain is outspent by key competitors and losing global market share. With a tourism sector deal this gap could be closed," said a spokesperson for Visit Britain.
Employing more than 3 million people across Britain, and made-up of 200,000 businesses, the tourism sector deal aligns the industry on four priorities. It follows consultation with SMEs (small and medium businesses), discussions across the nations and regions, working groups and personal meetings, with more than 450 businesses and organizations feeding into the process.
The priorities include a 10-year tourism and hospitality skills campaign to boost recruitment, skills and long-term careers, and boosting productivity by extending the tourism season year-round. It would also see an increasing global market share as a target.
The tourism sector deal bid, which is being facilitated by the BTA is due to be submitted to government ministers in the coming weeks.