China-ASEAN collaboration brings tourism boom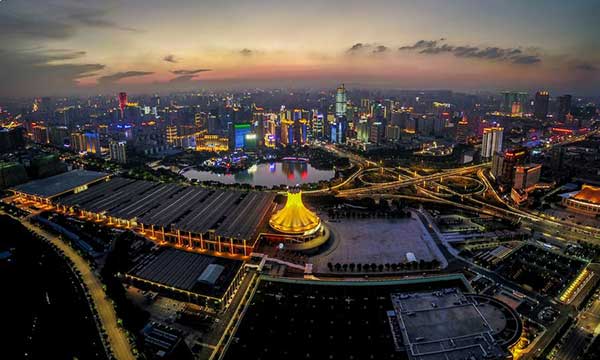 Night scenery of Nanning city, Guangxi Zhuang autonomous region. Since May 2016, Chinese tourists can apply for a visa on arrival with a 14-day stay. Direct flights have been launched between Brunei and the Chinese cities of Zhengzhou, Kunming and Nanning.[Photo/Xinhua]
Vincent Hou, a tour guide from Brunei, speaks Mandarin thanks to practicing with Chinese tourists.
"I can speak Cantonese, Hakka, Malay, English and Mandarin, so it's no wonder that I had an accent when speaking Mandarin. But my customers from the Chinese mainland, especially the elderly, often corrected me," said Hou, whose father comes from Fujian province and mother comes from Guangdong province.
It was the first time Brunei-based Borneo Trekker Travel, Hou's employer, has attended the China-ASEAN Expo, where Brunei is this year's Country of Honor. One theme of the event is tourism, as this year marks the China-ASEAN Year of Tourism.
Hou led a growing number of Chinese tour groups in Brunei in the past year or two, thanks to more direct flights between the two countries and easier access to Brunei.
Since May 2016, Chinese tourists can apply for a visa on arrival with a 14-day stay. Direct flights have been launched between Brunei and the Chinese cities of Zhengzhou, Kunming and Nanning.
"My Chinese customers love islands, but think Thailand and Malaysia are overcrowded. Brunei is a good choice," Hou said. "It is tranquil. There are no bars or KTVs in this Muslim country."
Like Hou, many of those involved in the tourism industry in Southeast Asian countries have benefited from the China-ASEAN tourism boom.
Nearly 8,800 travel agencies in nine ASEAN countries are approved to receive Chinese tourists, according to a report published at the expo.
In 2016, more than 30 million trips were made between China and ASEAN countries, compared with 10 million in 2011. The two are each other's largest overseas tourist destinations and largest sources of tourists, said the report on bilateral cooperation in tourism.
The rapid expansion of China-ASEAN tourism has pushed ahead with the regional economic integration, said Cambodian Prime Minister Hun Sen when addressing the opening ceremony of the expo. "The development of tourism has also promoted communication of peoples' hearts."
About 830,000 Chinese tourists visited Cambodia last year, up over 20 percent year-on-year, becoming the second largest group of foreign tourists for the country.
Hun Sen said tourism remains a pillar industry for Cambodia, and it has created jobs and helped its people cast off poverty.
Favorable visa polices and improved traffic are behind the prosperity of China-ASEAN tourism, said Dai Bin, head of China Tourism Academy.
In Guangxi Zhuang autonomous region, a Chinese tourist can enjoy a one-day tour of Dongxing and neighboring Mong Cai in Vietnam by showing only his or her ID card. Self-driving trips between the two cities were allowed in 2016.
From January to June, nearly 368,000 cross-border trips were made via Dongxing, up 17.8 percent year-on-year.