Study reveals shifts in overseas travel trends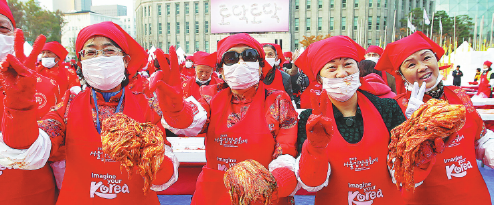 Chinese tourists learn to make Korean-style pickles during a visit to South Korea.[Photo/Xinhua]
Chinese tourists are the biggest spenders in the world, but increasingly direct their dollars away from shopping to local culture
Outbound Chinese tourists are spending less on shopping, while their overall trip expenditure is still on the rise, according to a recent survey.
The new study by Oliver Wyman, an international management consulting firm, covered 2,000 correspondents from the Chinese mainland, representing a broad cross-section of Chinese travelers.
As a growing number of Chinese people opt for overseas destinations during holidays, businesses worldwide are targeting them as lavish spenders. Yet major changes in their taste and travel trends indicate new business approaches may be necessary.
Data from the United Nations World Tourism Organization show that residents from the Chinese mainland made 135 billion foreign trips in 2016.
Their overall overseas spending was about $261 billion last year, more than twice the amount paid by outbound travelers from the United States, the second-largest source of international travelers.
But the rising numbers don't necessarily translate into boosts for travel-related businesses.
The average Chinese tourist spent about 6,705 yuan ($986) on shopping when traveling last year, down from 8,050 yuan in 2015, according to the survey. Shopping accounted for 33 percent of their overall spending abroad in 2016, and less than 41 percent in 2015.
During the first four months of this year, Chinese tourists' overseas spending on shopping dropped 37.2 percent year-on-year to 27.79 billion yuan, while their expenditure on entertainment and cultural tours increased by more than 80 percent on average, Chinese media reported.