Chinese travel the world - hotels, tourism industry just love it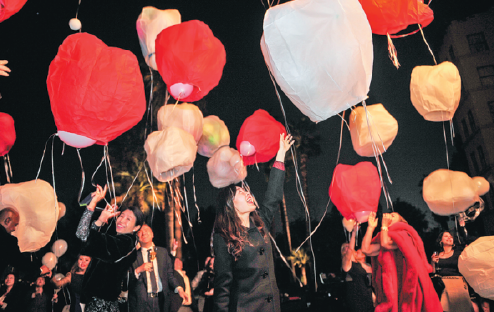 Chinese tourists celebrate Lantern Festival at a hotel in Los Angeles.[Photo/Xinhua]
More Chinese than ever are traveling to the United States and other foreign destinations - and hotels in China are going with them.
In 2015, more than 2.5 million Chinese came to the US, and that figure was expected to rise significantly last year, which was designated "2016 China-US Tourism Year".
One hotel group seeking to capture those tourists is Shanghai-based Green Tree Hospitality Group. It has five hotels in Arizona and California in the US.
Kevin Brooks, a co-managing director, said the company operates more than 2,000 hotels in China that range from budget or limited-service options to five-star designations. He said that a Green Tree budget or limited-service hotel in China is similar to a Holiday Inn Express in the US.
"About 18 months ago, the company decided to expand in the US; and last year, we converted five hotels to our brand," Chris Petroff, co-managing director said in an interview. "In 2017, we have embarked on franchising."
Petroff said the company is hoping that existing franchise operators in China will consider a US location to help spread the brand.
Brooks said Green Tree intends to build on its familiarity in China to spur growth in the US. "We currently have a loyalty program in China that has 12 million paying members," Brooks said. "We are seeing strong demand for US travel from that group."
Driven by a rapidly growing middle class, Chinese outbound tourists are expected to reach 150 million in 2020 from 122 million in 2016, with an estimated average annual growth rate of 5.09 percent, according to the China National Tourism Administration.