House of clouds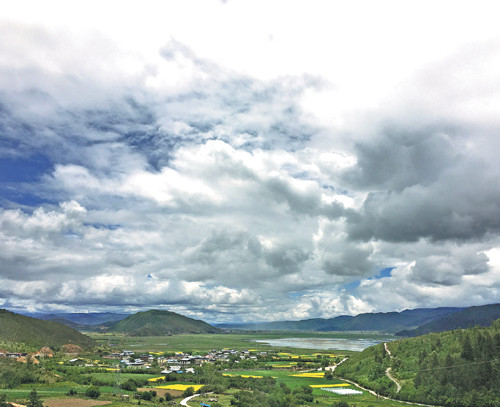 Napa Lake in countryside Shangri La, Yunnan province, in June. The area is a top destination for migratory birds. [Photo by Shi Wenzhi/China Daily]
Local and foreign settlers seek to raise remote town's profile, Satarupa Bhattacharjya reports in Shangri La, Yunnan province.
In Lost Horizon, the late British author James Hilton described "Shangri-La" as a mysterious valley in the Himalayan region where the 1933 novel's main character, Hugh Conway, a diplomat from his country, hopes to find peace from the conflicts of the world.
In a later media interview, Hilton said he imagined the place based on research at a museum library.
"A full moon rose, touching each peak in succession like some celestial lamplighter, until the long horizon glittered against a blue-black sky," he wrote in the book.
In the last decade, the ancient town of Zhongdian in Southwest China's Yunnan province was renamed Shangri La. Located at an altitude of more than 3,000 meters above sea level, it is called Gyalthang, or the "valley of the blue moon" in Tibetan. Shangri La is the seat of the local government of the Diqing Tibet autonomous prefecture.
According to one theory, Zhongdian was renamed because it bears a strong resemblance to Hilton's fictional land, while another suggests it was done to boost tourism.
Nevertheless, this town in Yunnan's northwest-with its old wooden houses, quiet alleys, surrounding mountains, a large lake and mastiffs and yaks-is charming.
And, some residents, both local and foreign settlers, are working to raise the remote town's profile, as China Daily's recent interviews indicate.
The larger county's population of 170,000 is mostly made up of Tibetans. Members of the Lisu ethnic group, among others, also live here.
Dakpa Kelden, a 47-year-old Tibetan entrepreneur and art patron, returned to the town in 1987 from India where he was born. The town's airport was built in the 1990s, when foreign tourists started to first arrive from Malaysia.