Moving forward, backing away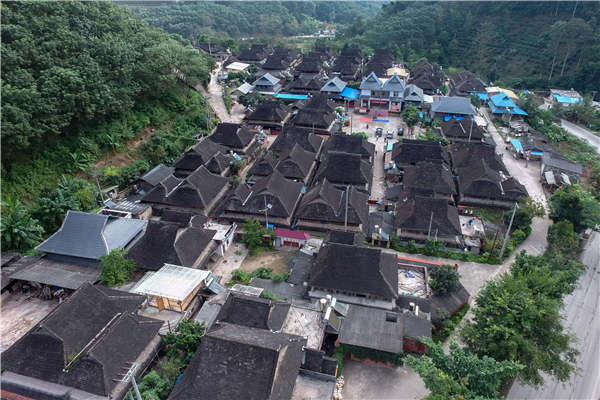 Bapiao village, inhabited by ethnic Jino people in Jinghong, Yunnan province. [Photo provided by Will Wain-Williams]
Ethnic Jino areas that exist in modernization's limbo offer authentic slices of traditional life-but perhaps not for long, Will Wain-Williams reports.
The ethnic Jino people inhabit Yunnan province's remote mountains, where they cultivate tea and medicinal herbs but still experience the country's rapid and massive transformation.
I set out to explore the lands on which they live, traveling from Yunnan's Xishuangbanna, a tropical settlement in the rainforest on the banks of the Mekong River near the border with Myanmar, northward toward the mountains leading to the Tibet autonomous region's highlands.
The main city (if you could call it that, given its small size and slow pace of life), Jinghong, is mostly inhabited by the Dai ethnic group. The Dai's close links to Thai people can be seen in the language, architecture and religious beliefs, endowing the area with a Southeast Asian feel.
The roads northward were lined with rubber plantations. My driver says many owners are shifting toward coffee production, which is more profitable.
Yunnan's coffee has been increasing its market share in the country and beyond.
Signs advertising tacky theme parks devoted to ethnic culture punctuate the agricultural plots.
I was looking for something more authentic.